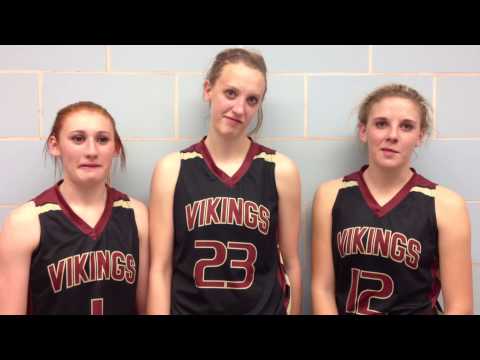 View 2 Items

KEARNS — Two years ago the Viewmont Vikings had to win a play-in game just to make the 5A state tournament.
This year, they enter the tournament as Region 2 champions with a perfect 10-0 region record.
"We got a new coach, but we work so much harder now," said senior Taya Adams after the Vikings capped their impressive regular season with a 64-35 victory over Kearns on Tuesday night. "A few years ago, there wasn't the work ethic there is now."
Viewmont head coach Clint Straatman agreed but added that most of that effort is spent emphasizing defense.
"I think they're buying into the idea of playing defense," said Straatman. "They're really enjoying it. It's not always the best, but they keep improving all the time."
Convincing teenagers to relish hard work can be a tough sell. But winning is the kind of reward that speaks for itself.
"That first year set a tone, and we really did play that good," he said, recalling a game in which the team blew a 32-10 lead against Fremont. "They didn't know how to handle the winning."
Now the players not only see the value of hard work and tough defense, they also see the benefits of good team chemistry and being coachable.
"We have a lot of talent, and we play as a team," said junior Caitlyn Larsen.
Adds senior guard Shelby Justice, "We get along really well on and off the court. We really get along."
Straatman said their willingness to listen has also helped them turn the program into a winner.
"If you have the attitude that you want to win, and you listen and are coachable, the sky is the limit," he said.
And the sky is what this year's region champions are shooting for.
"From the start of the season, we had the region title as our goal," said Justice, whose school last won a region title in girls basketball in 1999. "This just boosts our confidence going into state 10-0."
Larsen said the team will focus on one opponent at a time as it heads into the tournament a top seed.
"Hopefully we're capable of a state championship," she said. To which Justice adds: "We're going all the way."
Viewmont hasn't won a state title in girls basketball since 1980, Straatman said. Tuesday's game, however, was indicative of the progress made by the team, which will be talented for the next few years based on the contributions of its underclassmen.
Sophomore Katie Toole led the team offensively with 23 points, while Larsen added 19 points. Junior Colette West hit three 3-point shots for nine points in the team's final regular-season victory.
Kearns was led by McKaylie Tanner and Ayana Solovi, who scored eight points each in the loss.
Twitter: adonsports
Email: adonaldson@desnews.com