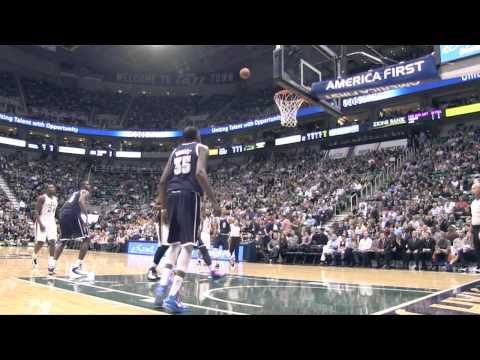 View 37 Items


SALT LAKE CITY — Kendrick Perkins delivered a shot to Al Jefferson's face and an elbow to his head. Kevin Durant sent Alec Burks sprawling to the sideline with a hard body check, resulting in the first flagrant foul of the star's career.
But it was the Utah Jazz who handed out the biggest blow Tuesday night at EnergySolutions Arena.
Hours after Earl Watson talked about this matchup with mighty Oklahoma City being one of the biggest games of the season, the Jazz played up to that lofty billing.
Sure, the Jazz felt it in the locker room after the game — from Jefferson's beat-up head to Randy Foye's sore upper leg — but thrashing the Thunder, 109-94, took the sting off the physical toll.
"It's a little sore. I've got a headache," Jefferson said. "But I'm all right."
Jefferson was one of the Jazz players who contributed to leave a lasting mark on the Thunder's still-stellar record, which dipped to 39-13 after their four-game winning streak was snapped.
Big Al scored 23 points with seven rebounds, two steals and a blocked shot, and he didn't even play the final nine minutes of the surprisingly one-sided showdown.
Five other Jazz players hit double figures, including a strong 18-point, 10-rebound effort by Paul Millsap, as the team improved to 29-24 after ending a disappointing two-game slide.
The Jazz trailed by five early on, but surged ahead in the first quarter, took a 58-52 lead into halftime and then broke it open with a Jefferson-led 10-0 spurt, spanning the end of the third and beginning of the fourth.
"We knew we had to bounce back and try to get these next two before the All-Star break," Jefferson said. "I guess guys just came in focused tonight. Everybody stepped in, made big shots and opened the inside up for the bigs."
The win was the Jazz's 20th at home and rivals previous impressive victories over Miami (Jan. 14) and San Antonio (Dec. 12). This one perhaps received extra degree-of-difficulty points considering Utah's rough weekend and the fact OKC had beaten their past four foes by an average of 25.3 points.
"I think," Jazz guard Earl Watson said, "we definitely showed that we can compete with any team in the NBA when we're on the same page and we're playing well together."
The timing couldn't have been better for Utah, which lost a rough one Friday at home vs. Chicago and then got smashed on Saturday in Sacramento. The Jazz, fighting for one of the final playoff spots out West, had split their first eight games in February after going 10-4 in January.
"That was a big game. I think that's the biggest game of the year for us, especially coming off two losses," Watson said. "We did a great job being aggressive on both ends of the court. They're a great team, but we didn't give them too much respect. We respect them as opponents, but we went out to win the game."
Utah did that despite Oklahoma City shooting 55.9 percent and getting 33 points, six rebounds and five assists from Durant, and a 22-point night from reigning Western Conference Player of the Week Russell Westbrook. Serge Ibaka also had 10 points and seven of the Thunder's 13 blocked shots.
The Jazz, however, controlled the tempo, took 19 more shots than the Thunder (87-69), scored 18 second-chance points off of 16 offensive rebounds (compared to four putback points for OKC) and totaled 28 points off of 20 turnovers by the visitors.
Utah also had a strong cavalry crew contribution, with Derrick Favors scoring 15 points and Alec Burks and DeMarre Carroll each contributing 13 points off the bench. The Jazz subs outscored the Thunder's 49-25.
"It was a great effort. I thought our defense for the most part during the whole game was pretty good," Jazz coach Tyrone Corbin said. "Although they shot (56) percent, I thought we played an aggressive defense. We were back in transition. We controlled the easy baskets for the most part of the game. That was key for us — making them make tough shots."
Speaking of tough shots, the Thunder certainly gave the Jazz some of those.
Perkins swiped at Jefferson's face and then elbowed him in the back of the neck in the first half, picking up a technical and a Flagrant 1 foul.
Durant joined the act midway through the fourth quarter, doing a full-body sideswipe of Burks. That resulted in the Thunder star receiving his first-ever flagrant foul (penalty 1).
Players then had to be separated after Carroll approached Durant, and the OKC forward pushed him away. Both players got Ts for that little brouhaha.
"They just kicked our (behinds)," Durant said. "They outrebounded us (38-26). They scored in the paint. We turned the ball over and we just gave them the game, and they executed on everything we did."
While the Thunder lost their cool and their usual dominant edge, the Jazz remained focused and continued playing well despite the physicality of the game.
On this night, Utah's retaliation came on the scoreboard.
"We talked to the guys about playing and playing aggressive but being smart about it — not doing anything crazy," Corbin said. "We're not out there trying to hurt anybody but we want to play with a certain sense of urgency and sense of aggressiveness, and that's who we want to be and that's who we are."
Corbin especially appreciated his team's intensity and effort — something that would come in handy again tonight at Minnesota where the Jazz play their last game before the All-Star break.
"Our energy on both ends of the floor was great. That gave us extra possessions because of that," Corbin said. "The guys did a great job in understanding the sense of urgency and how important this game was for us. We want the same kind of effort (tonight)."
EMAIL: [email protected]
TWITTER: DJJazzyJody