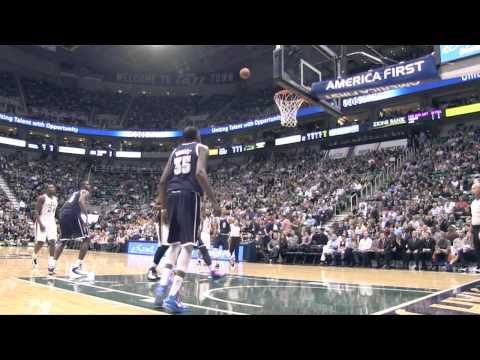 View 37 Items


After a disappointing weekend's worth of basketball, playing a team with a 39-12 record looked daunting. But as they have been apt to do this season versus some of the league's best, the Utah Jazz rose up to the challenge. Thanks to one of its most complete performances of the year, Utah thwarted the Oklahoma City Thunder 109-94 Tuesday.
One game after faltering against the team with the sixth-worst record, the Jazz emerged victorious over the team with the second-best mark. Utah came out with great energy, aggressiveness and teamwork, and subsequently dominated a Thunder team that has been dominating opposing teams.
The game was physical and emotions seemed high, but the Jazz stayed composed. They outscored Oklahoma City each quarter and contrary to a trend of letting big leads evaporate at times, they gave a solid knockout punch in the fourth quarter.
Balanced basketball: Thunder All-Stars Kevin Durant (28.9 points per game) and Russell Westbrook (22.5) form the highest-scoring duo in the NBA. Tuesday was right on par for the pair, as they combined to put 55 points on the board. Unfortunately, the rest of the team only could muster 39 — with several of those baskets coming in garbage time.
Conversely, Utah rode a very balanced effort en route to the big win. Nine players played between 22 and 33 minutes, with six scoring 11 points or more. Al Jefferson paced the Jazz with 23 points, and frontcourt friends Paul Millsap and Derrick Favors added 18 and 15, respectively.
Hustle Stats: From the opening tip, the Jazz looked like a team eager to erase the memories of their recent losses. This was reflective in the hustle stats.
• Utah easily controlled the rebounding battle, outboarding Oklahoma City 38-26, with an impressive 16 on the offensive end of things.
• The Jazz forced 20 Thunder turnovers, with 14 of the miscues coming via Utah steals.
• Led by six assists apiece by Jamaal Tinsley and Millsap, Utah doled out 25 assists to Oklahoma City's 15.
• The Jazz bench nearly doubled the output of its counterparts, outscoring the Thunder reserves 49-25.
Loose Ends:
• In a somewhat surprising stat, Durant was issued his 10th technical foul of the season. It came off the heels of an uncharacteristic hip check he inflicted on Utah's Alec Burks.
• Burks and Favors were excellent in the second and fourth quarters, showing continued growth and maturity.
• Serge Ibaka swatted seven blocked shots for Oklahoma City, but sported a team-worst plus-minus of minus-28.
• Durant, Westbrook, and Kendrick Perkins committed 15 of the Thunder's 20 turnovers.
David Smith provides instant analysis for Deseret News' Utah Jazz coverage. He works for LDS Philanthropies and also blogs for the Utah Jazz 360 website. He can be reached at mechakucha1@gmail.com or on Twitter at davidjsmith1232.