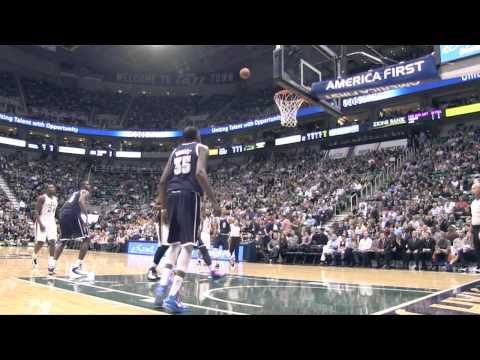 View 37 Items


SALT LAKE CITY — Ending a losing skid against one of the best teams in the NBA, even at home, doesn't seem like an easy task. But the Jazz sure made it look easy as they routed the Oklahoma City Thunder, 109-94, Tuesday. Paul Millsap led the way with 18 points and 10 rebounds while Kevin Durant poured in 33 points in a losing effort.
GUARDS: Jamaal Tinsely had one of his best performances of the season, especially considering the explosive nature of his counterpart, Russell Westbrook. Tinsley hit a pair of 3s while dishing out six assists and forcing six steals in 24 minutes of play. Westbrook finished right at his season average of 22 points — but did not take advantage of the seasoned veteran by scoring above his average. Randy Foye chipped in 11 points despite taking shots to his quadriceps and groin early in the game. GRADE: A.
FORWARDS: Millsap's double-double covered for the continued ineffectiveness of Marvin Williams, who scored two points and grabbed one rebound in 22 minutes. GRADE: A-
CENTERS: Despite a defensive specialist such as Serge Ibaka roaming the low blocks, Jefferson still put up 23 points and grabbed five rebounds. Jazz head coach Tyrone Corbin allotted Jefferson 33 minutes against the Thunder, which is seven minutes greater than the next leader in minutes played. DeMarre Carroll played 26 minutes on the night. GRADE: A.
BENCH: The Jazz bench played excellent and was a major factor in the victory over OKC. Favors led the bench in scoring with 15 points in 22 minutes. Carroll dropped 13 points in his 26 minutes while Alec Burks matched that with 13 points of his own. GRADE: A.
OVERALL: The Jazz did everything the right way to beat a team like the Thunder, but one stat is very puzzling: The Thunder outshot the Jazz percentage-wise by nearly 8 percent (55.9 percent to 48.3 percent). The Jazz outscored the Thunder 23-15 in the fourth quarter, which is a great accomplishment against the highest-scoring team in the NBA. The Jazz put a screeching stop to their losing streak and avoided heading into All-Star Weekend on a losing streak. They will, however, head into the break as one of the most puzzling teams in the NBA. The Jazz have now defeated the San Antonio Spurs, Miami Heat and Thunder at home, while losing to teams like Sacramento and New Orleans on the road. GRADE: A.
Tyler Huskinson is a freelance journalist who loves to cover sports. You can reach him at ty.d.hus@aggiemail.usu.edu or follow him on twitter @TDHuskiSports.