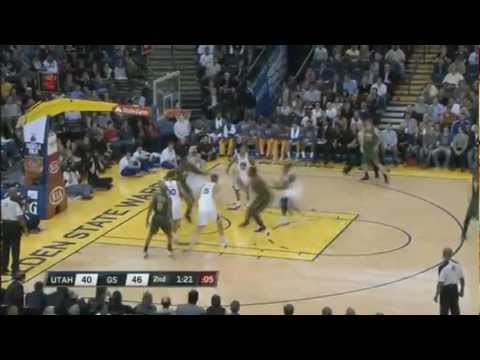 View 3 Items

As the Feb. 21 NBA trade deadline approaches, teams have reportedly expressed interest in jazzmen Al Jefferson and Paul Millsap.
The Arizona Republic reported Monday that the Phoenix Suns have been in talks with the Utah Jazz about acquiring Jefferson and possibly Gordon Hayward. The Suns have also expressed interest in Iman Shumpert of the New York Knicks, according to the article. Potential trades could involve Jared Dudley and Marcin Gortat, although it is doubtful that the Jazz would want to take another big man to put in their already crowded front court.
There is also speculation that the San Antonio Spurs could send Tiago Splitter and Patty Mills to the Jazz in exchange for Jefferson. What makes this trade possibility more tantalizing is the strong front office ties between San Antonio and Utah. Spurs assistant general manager Scott Layden left the Jazz prior to this season after spending several seasons as an assistant coach for the Jazz to join San Antonio's front office, and former Spurs assistant GM Dennis Lindsey is the current GM of the Utah Jazz.
ESPN insider Ric Bucher is reporting that the Jazz may trade Millsap and elect to keep Jefferson.
Bucher posted the following on sulia Monday:
"Latest word on Utah Jazz and who they'll keep vs. deal between Al Jefferson and Paul Millsap: Jefferson is the likeliest to stay right now, according to several opposing team executives. Consensus is the Jazz can't afford to keep both with Gordon Hayward soon to be eligible for an extension and the belief that Hayward is in the team's long-term plans."
8
comments on this story
Jefferson, who was traded to the Jazz in 2010, will become an unrestricted free agent after this season. Should Dwight Howard elect to stay with the Lakers, Jefferson would be one of the top big men available in free agency and the Jazz would surely like to get something for him instead of letting him walk for nothing.
Millsap has spent his entire six-season career in Utah and will also become a free agent after the season. Last season he averaged a career high in steals per game and a carrer high 8.8 rebounds per game, including averaging 11 rebounds per game in the playoffs.
Ryan Carreon is a web editor for DeseretNews.com. E-mail him at rcarreon@desnews.com