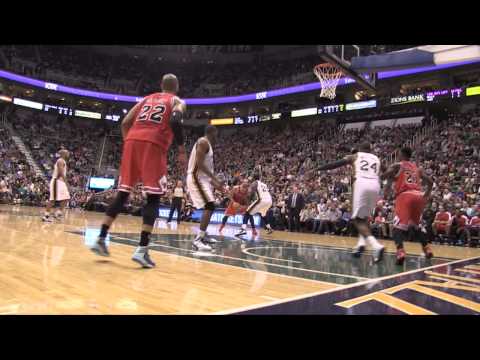 View 24 Items


Carlos Boozer remains one of the most polarizing individuals in Utah Jazz lore. Friday night just added to that, as the former Jazz All-Star took over the game down the stretch and pushed the Chicago Bulls to a scrappy, hard-fought 93-89 win over Utah.
In front of a national audience, the two franchises went from having a nice offensive battle in the first half to having a grind-it-out-half-court affair in the second half. Thanks to 58 points in the first half, the Bulls managed to win despite only putting 35 more on the board the rest of the game.
Mano-a-mano: They were not traded for each other, but when Boozer inked his free agent deal with Chicago, his sign-and-trade deal gave Utah a trade exemption that the Utah franchise used to acquire Al Jefferson. In some ways, the two big men are linked together as a result. And both were exceptional Friday.
It was Jefferson's turn first, as he simply was hitting from all over the court. While his shooting was torrid throughout the game, it was a spell in the second half where everything he flung toward the basket was going down. He toiled more than he usually does — playing 41 minutes — which may have affected his fourth-quarter sharpness. Jefferson shot 15 of 22 from the floor en route to a season-high 32 points. The center added 13 rebounds, two steals and two blocked shots.
That said, it was Boozer who got the final say. Amid a shower of boos from the EnergySolutions Arena crowd, the power forward reminded them of how potent he still can be on the offensive end. While the fourth quarter typically belongs to the injured (but soon-to-return) point guard Derrick Rose, Boozer took over that role, scoring 11 consecutive points. He could not be stopped as he put on a clinic of strong moves. He finished with 19 points and got his team a win.
This and That:
• Utah head coach Tyrone Corbin went with an Alec Burks-Randy Foye backcourt pairing for much of the fourth quarter. He even briefly went with a three-guard lineup, with Jamaal Tinsley being the third player.
Comment on this story
• Even sans MVP Rose, the Bulls assisted 25 of their 36 made field goals.
• Two nights after pouring in an impressive 17 points, Enes Kanter logged seven minutes versus Chicago.
• With very little financial flexibility during the offseason, the Bulls signed Marco Bellinelli and Nate Robinson to very economic pacts. It's safe to say that both signings are paying off. The former had nine points and six assists, and the latter was a major spark plug for Chicago, tallying 18 points and nine assists in a game-high 46 minutes.
David Smith provides instant analysis for Deseret News' Utah Jazz coverage. He works for LDS Philanthropies and also blogs for the Utah Jazz 360 website. He can be reached at mechakucha1@gmail.com or on Twitter at davidjsmith1232.