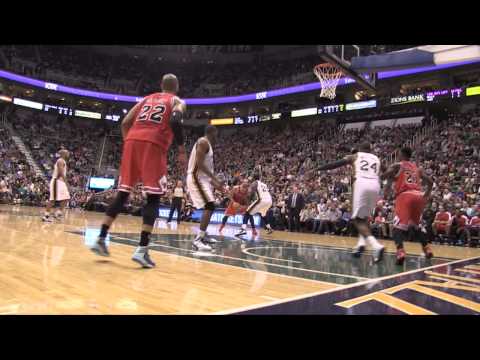 View 23 Items


SALT LAKE CITY — The Jazz have a very limited amount of offensive weapons. The Chicago Bulls exploited that deficiency Friday night.
Carlos Boozer led five Bulls in double figures with 19 points en route to a 93-89 victory for the away team. Al Jefferson put on a show for the Jazz as he finished with 32 points and 13 rebounds, but it ultimately wasn't enough.
GUARDS: Jamaal Tinsely dished out six assists and pulled down four rebounds while getting beat play after play by the ever-streaky Nate Robinson, who finished with 18 points, nine assists and four rebounds. Randy Foye had an average 14-point effort but really came on strong in the distribution department with six dimes in 39 minutes. GRADE: B.
FORWARDS: Paul Millsap played a great game for the most part with 21 points, three rebounds and three assists. But his heavily contested baseline 3-point attempt with 17 seconds left and the Jazz trailing by three was questionable and knocks down his grade considerably. Marvin Williams hit a 3-pointer and pulled down six rebounds, and at this point of the season, the Jazz will take any positive stats from him. GRADE: C+.
CENTERS: There was a stretch of the game where Jefferson hit six consecutive shots and looked like he wouldn't miss again the rest of the night. An 18-foot jumper with just over nine minutes to play gave Jefferson his 32 points — but he didn't score again. Considering Jefferson has been the go-to player in clutch moments for most the season, the Bulls' ability to shut him down late in the game is a big reason the Jazz fell at home. GRADE: B+.
BENCH: The Jazz bench has been a spark and a source of instant energy and offense for most of the season, but against the Bulls, it was more or less absent. The ineffectiveness of the bench isn't entirely the players' fault. Derrick Favors and Alec Burks played about 25 minutes apiece and scored six and five points, respectively, but DeMarre Carroll and Enes Kanter, both of whom were effective against Milwaukee, played very limited minutes. Kanter played seven minutes and managed to score four points and grab two rebounds in that time span. Carroll played 15 minutes and finished with four points and three rebounds. The Bulls' defense played a huge role all night, but Jazz head coach Tyrone Corbin did not seem to trust his bench against a team like Chicago. GRADE: C.
OVERALL: There is really no excuse for losing to Chicago, given the situation of the game. The Bulls were on the end of a six-game road swing and on the back end of a back-to-back just like Milwaukee on Wednesday. Not only were those aspects in the Jazz's favor, the Bulls suffered an ugly blowout defeat at the hands of the Denver Nuggets the previous night. The Jazz are usually at their best when closing out close games, as they get the ball inside to Jefferson. The Bulls understood and took care of that strategy and the Jazz had no answer. GRADE: C-.
Tyler Huskinson is a freelance journalist who loves to cover sports. You can reach him at ty.d.hus@aggiemail.usu.edu or follow him on twitter @TDHuskiSports.