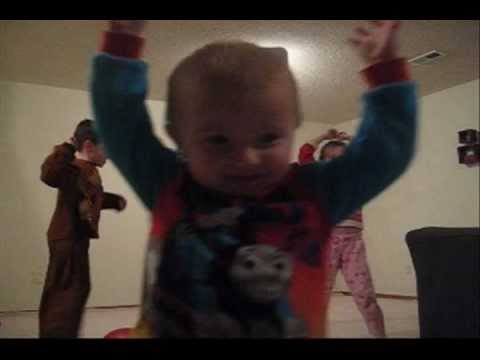 View 2 Items

Two-year-old Titus Ashby of Derby, Kan., has been shooting baskets since he could walk. At 18 months, he could score a basket without even looking. Now, six months later, he has made it on national television.
Titus made an appearance on the "Today Show" Thursday after his video "Unbelievable Little Kid Does a Trick Shot Video" on YouTube went viral.
As a baby, Titus would sit with his dad while he watched Miami Heat games. By observing the professional basketball players, in addition to watching his older brothers, Titus developed a passion for the game.
"Titus has always loved balls," said Kristin Ashby, Titus' mom, in a phone interview with the Deseret News. "He spends maybe 10 percent of his free time playing with toys, and 90 percent of the time he just gets balls and shoots them."
In the first shot of the video, which was uploaded by Titus' dad Joseph, the young basketball star is asked to make a basket for his grandma. Without glancing at the hoop, Titus effortlessly made a shot. After that experience, the Ashbys decided to make a video of all the tricks Titus likes to do.
"We joked around about it going viral, but we didn't think it would ever happen," Kristin, a member of The Church of Jesus Christ of Latter-day Saints, said. "After we posted it, we started getting calls and comments on the videos, and then it just kept getting more popular. We were just bombarded with emails, calls and media requests."
Titus likes to try new tricks and to challenge himself, according to his mom. His latest trick is taking a running start before he makes a shot. He is constantly finding new places around the house to practice basketball.
"Sometimes I go to do the dishes and there will be a ball in the sink," Kristin said. "He'll shoot the ball in the sink, the bathtub, in his crib or in random baskets floating around the house."
Although Titus has no idea how famous he is, he loves watching his video. He likes to cheer for himself when he watches it.
"On the 'Today Show,' whenever we'd leave the room for the little teaser sections, he'd just say, 'Hoops! Hoops! I want to go back to the hoops!'" Kristin said.
The YouTube video has reached more than 3 million views and has generated a host of comments on social sites like Facebook.
"My sister sent me some of her favorite comments that said things like, 'This just brightened my day,' or 'This is the cutest thing ever,' and I started to feel like it was wonderful that people like it so much," Kristin said.
Megan Marsden is an intern with the Deseret News writing for the Faith & Family section. She is currently a junior at BYU-Idaho studying communication.