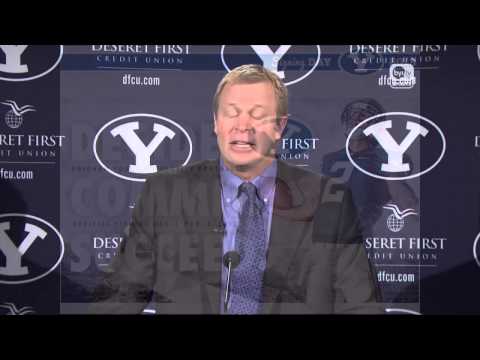 View 12 Items

SAN DIEGO — Less than two months ago, the BYU football team ended its season with a win in this town.
And this is where the Cougar basketball team's chances at an NCAA tournament at-large bid suffered a major blow Thursday night.
BYU fell to San Diego, 74-68, at Jenny Craig Pavilion.
Freshman Bronson Kaufusi was here for both games. The defensive lineman-turned-forward from Provo joined the basketball squad soon after BYU won the Poinsettia Bowl against San Diego State on Dec. 20.
According to basketball coach Dave Rose, Kaufusi has made big strides over the past few weeks.
"Bronson just continues to learn every day," Rose said. "Our scouting reports may seem repetitive to a lot of our guys. To Bronson, he's learning how we guard ball screens and how we adjust to different things. But as far as physically, how he plays, I think he's getting better. He's getting a lot more comfortable in our system. The minutes that he gets in the game, he's making good use of them. Hopefully we can increase that as we move through here."
Kaufusi entered Thursday's game with 7:06 left in first half and provided a physical presence inside against San Diego's frontline. Soon thereafter, he made the first free throw of his career. He played three minutes in the first half and did not play in the second half.
Going into Thursday's game, Kaufusi had averaged 4.1 minutes per game, scored four points, grabbed 11 rebounds, had two steals and one blocked shot. What does football coach Bronco Mendenhall think of Kaufusi's moonlighting?
"It's great, as long as he doesn't get hurt," Mendenhall said on Wednesday. "Bronson's really good and very valuable to our team."
While Mendenhall is supportive of Kaufusi's hoop dreams, he is eager to get him back to football.
"When he first approached me with it, I just simply educated him what the risk was, and what the development path would be, now that he's home from a mission, as his goal is to go on and play professional football, how every offseason is so important," Mendenhall said. "Dave Rose and I talked for a long time. Probably any other year, Dave wouldn't have needed him. We lost two big men prior to the season. Bronson's turned out to be good for the basketball team. To this point, because he's still healthy and his weight's holding, it's good for us. Whether it will be long-term, I would doubt it. But for this point, it's okay. I wouldn't say this is a precedence set going forward. This is more of the exception."
NOTES:
Nate Austin and Craig Cusick started the second half for BYU.
According to his Twitter account, future Cougar Jakob Hartsock, who signed with the Cougars last fall, received his mission call. Hartsock, the younger brother of former BYU star Noah Hartsock, will serve in the Las Vegas West mission.
Got my Mission call! Las Vegas West mission

— Jakob Hartsock (@Jhart34bruin) February 8, 2013
Email: [email protected]; Twitter: @AJeffreyCall