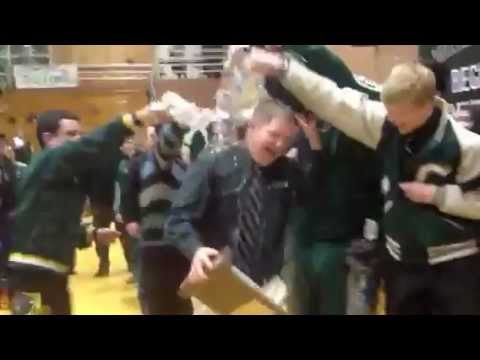 CLEARFIELD — When a skin infection spread like wildfire through Clearfield's wrestling team in December, coach Dustin Rock really had no choice but to self-quarantine his entire team.
With 20-plus kids infected, Clearfield didn't wrestle for nearly all of December — meets or practices. All the Falcons did was condition.
For a team that was favored to repeat as Region 6 champs, at the time it seemed like a devastating blow.
That adversity is what made celebrating the region title Thursday night that much sweeter.
After going 17 years without a region wrestling title prior to last year, the Falcons made it two straight with a convincing win over the Region 6 field at Clearfield High School.
The Falcons captured the team title with 368 points, followed by Highland in second with 316 and Bountiful in third with 293.5
"For this team to come back from taking a month away from competition is pretty incredible. The boys wrestled really well," said Rock.
A year ago Clearfield narrowly beat Highland by 10 points for the region title, but outstanding wrestling in the consolation rounds Thursday helped Clearfield wrap up this year's title before the championship matches had even started.
"I tell my kids all the time, 'this isn't won by our champions. This is won by those kids that come back through and get those third- and fourth-place medals.' That's where we won the tournament," said Rock.
Clearfield has some horses as well though, as Logan Swallow (106), Christian Kodele (113), Zeth Porter (126) and Dakota Wickel (220) all won individual titles.
All 15 wrestlers who qualified for next week's 4A state tournament will need to be even better if the Falcons are going to achieve their goal and crack the top five.
Five years ago when Rock — a Morgan High graduate — took over the program, Clearfield qualified just one wrestler to state and he went 0-2. To even be talking about a possible top five finish is a remarkable turnaround.
"He works us hard. When other teams tank, our goal is to get our wins in the third round. His philosophy, since sophomore year I've heard it over and over again: 'We don't train for region. We train for state.' And he gets us to that level," said Kodele, who's been in the program for three years.
Kodele beat teammate Colton Thiel in his championship match, a matchup of state placers from a year ago.
Swallow, who wrestled in the all-star duals in January, easily won the 106-pound title by pinning both opponents in his only two matches.
Rock had nothing but praise for Porter and Wickel as well, who were both dealing with shoulder injuries.
"Zeth Porter, what a kid. He's battling through some tough injuries. He just dislocated his shoulder two weeks ago, and so to bounce back and win the region title after that is pretty impressive," said Rock.
"And Wickel is the same way. He's got a dislocation shoulder, and he went out and wrestled for the team anyway. He's got surgery scheduled for next Friday."
Wickel won a very tough weight as well, beating Highland's Christian Correia, 4-2, on a takedown with just three seconds remaining in the match.
Highland finished with two individual champs — Sydney Lauti (160) and Ephraim Schulte (170) — as it finished second in Region 6 for the second straight year.
Bountiful tied Clearfield with four individual winners to finish third in the team standings. The Braves' champs were Justin Horsley (132), Joey Barnett (138), Josh Barnett (145) and AJ Tovey (195).
Other individual champs were Cyprus' Donze Palmer-Randolph (120), Nico Disera (152) and Taylor Fallentine (182), and East's PJ Nu'usa.