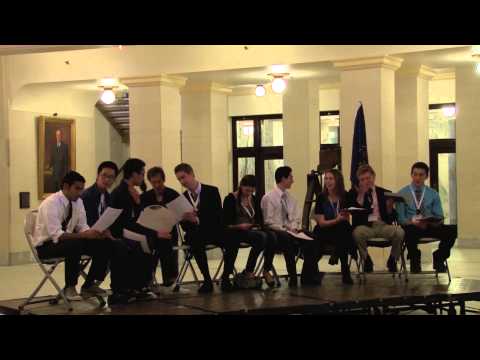 YouTube
Whether it's pushing and shoving, name-calling or cyber-attacking — age-old acts of bullying continue in Utah's schools. In a mock-hearing at the Utah State Capitol, hundreds of high school students met to discuss ways to stop the malicious behavior.
As part of the annual Local Officials Day at the Legislature, hosted by the Utah League of Cities and Towns, more than 500 teenagers participated in a debate over proposed changes to state bullying laws. After the meeting was called to order by a "committee chairperson," speakers had some time to express their opinions about the existing Utah code and propose changes. Then the "committee" voted on the measure.
Presently in Utah, the education code defines bullying as intentionally or knowingly committing an act that endangers the health or safety of another, involves physical brutality, obstructs another's freedom by causing fear, or using the internet or cell phone to hurt, embarrass or threaten a person.
Students presented several amendments to the code including behavior that interferes with a student's education or is so severe or persistent that it creates an intimidating or threatening educational environment. They also proposed defining "malicious bullying," as committing the act because of any perception of the victim's religion, race, gender, sexual orientation or mental, physical or sensory handicap.
During the mock hearing, students debated the appropriate punishment for acts of bullying. Current code states a student may be suspended or expelled from school for engaging in bullying. Students debated creating a criminal penalty of 0-5 years in jail and a fine of up to $5,000.
Rep. Carol Spackman Moss, D-Salt Lake, is credited for creating the present state code regarding bullying. Now she is looking at a bill to make changes that address cyber-bullying. She paid a visit to the students during their mock-debate to express her concern about the problem, and acknowledged their efforts to discuss ways to prevent acts of bullying whether on or off a school campus.
ULCT is a non partisan, inter-local, government cooperative, working to strengthen the quality of municipal government and administration. The League serves as a voice for Utah's 245 cities and towns at the county, state and federal level.