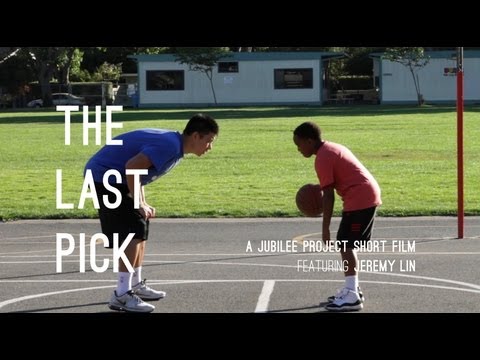 View 2 Items

NBA star Jeremy Lin tweeted Monday night to his 948,364 Twitter followers, letting them know about a new YouTube video produced in conjunction with his Jeremy Lin Foundation and the Jubilee Project.
"Back on Youtube!" Lin tweeted. "New video with the @jlinfoundation and the @jubileeproject ... Yes, my acting sucks!"
The video is titled "The Last Pick" and stars Lin, playing himself. The storyline shows Lin shoring up the confidence of a discouraged 11-year-old African-American boy who doesn't get picked to play in a pickup basketball game.
The website Christ Culture News reported, "The seven and a half-minute video, which features Lin and several young actors, is worth watching. As you'll notice at the end, the video shows 1 Thessalonians 5:11 — which reads: 'Therefore encourage one another and build each other up, just as in fact you are doing.'"
The video's YouTube page offers additional information: "'The Last Pick' is a video about helping others. When we give to others, we often benefit in return. It usually happens when we expect it the least, but need it the most.
"This film was produced this past summer to support the Jeremy Lin Foundation (@jlinfoundation). The foundation loves and serves children and youth, by providing hope, empowerment and leadership development."
On the Asian Pacific-American entertainment website Channel APA, Kevin Hsieh wrote Sunday, "Linsanity began one year ago on this day. Against all odds, Jeremy Lin became the biggest surprise story of the NBA. He generated a global wave of support and inspired countless young people to believe anything is possible. Despite his sudden fame, few people know well the person underneath it all — his faith, his work with inner-city communities, his passion to help underprivileged children."
Speaking of "Linsanity," a documentary with that name debuted at this year's Sundance Film Festival. In the movie Lin speaks candidly and frequently about his Christian faith.
According to the APA Channel, the Jubilee Project that created "Last Pick" is essentially a three-man team that "produces videos to raise awareness and money for other non-profits (and) has impressively garnered nearly 10,000 subscribers and over 1 million views on its YouTube channel."
Jeremy Lin headlines uplifting YouTube video
Jamshid Ghazi Askar is a graduate of BYU's J. Reuben Clark Law School and member of the Utah State Bar. Contact him at jaskar@desnews.com or 801-236-6051.