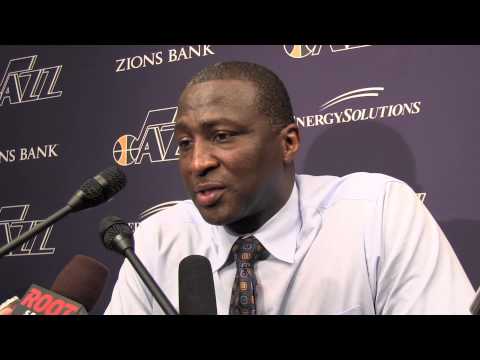 View 29 Items

SALT LAKE CITY — Karl Malone is already The Mailman and a Hall of Famer.
If he gets his way, the former Utah Jazz star will be go by another description: assistant coach.
Malone doesn't want to replace any of Tyrone Corbin's current full-time helpers, but he wouldn't mind finding a spot next to Sidney Lowe, Jeff Hornacek, Michael Sanders and Brad Jones.
"All they've got to do is call me," Malone said during an interview with ESPN 700's Hans Olsen and James Rust on Wednesday afternoon. "I'll work with the big men for free for a while until it work."
This isn't the first time Malone has offered his coaching services to the organization he helped turn into a powerhouse and a two-time NBA Finals squad during his 18 years in Utah.
"I'm saying it again. Ain't nobody took me up on it," Malone said. "Maybe they don't want to hear me."
So, Coach?
Any room on the staff or a role for a legendary big man who dearly wants to do some pro bono work?
"Who knows? Who knows?" Corbin said. "We are where we are right now, but who knows what will happen."
Malone said he wouldn't necessarily want a full-time gig and he has no desire to travel with the team every game.
"But look. We can start off and see if it working," Malone said. "If not, I'll be the first one to say, 'Guys, it ain't working.' And they don't have to say nothing."
Malone has no doubt if the Jazz's former coach was still in charge — or is again elsewhere someday — he'd be in a gym teaching bigs how it's done.
"If coach (Jerry) Sloan ever got another coaching job, I would be with him sometime," he said. "End of story."
And, yes, he told Olsen and Rust he's not just popping off for fun about this idea.
"I'm being dead serious about this," Malone said. "I don't want no cameras around. I would be more than willing to come."
BIG REASON: One large factor Malone is interested: He's a big fan of the Jazz bigs.
"Utah Jazz is one of my favorite teams. I still have them doing damage," Malone said during the 25-minute interview. "Utah Jazz have a group of the best big men that's in the league. Go through any team (and compare)."
To that point, Malone said he wouldn't be in a rush to get rid of Al Jefferson or Paul Millsap.
"Everybody want to trade. But I got a news flash for you: They (trading partners) want a big man. If they (Jazz) want a good point guard, they're going to want your big guy," Malone said. "It's going to be very, very interesting with Paul and Al."
BIG TALENT: Malone wants to see what happens when injured Jazz guys return.
"All in all guys, don't start blowing up the team," he said in the radio interview. "If you don't have to get rid of a big guy, don't get rid of a big guy. You don't see a lot of them coming down the pike. But the fact of the matter is, we have talent on this team."
The sports talk-show hosts also asked Malone who he'd pick if he had to between Big Al and Malone's fellow Louisiana Tech product, Millsap. Malone grumbled and laughed about being put on the spot but then — you guessed — gave his opinion.
"I love Paul Millsap and he's going to play somewhere all he want to. If you're making me choose between one or the other — and I'm Tech Nation, Paul Millsap — Al Jefferson, to me, is a bigger guy that would do more damage at that position if you can't bring but one of them back," Malone said. "Try to bring both back. Whatever you do, do not get rid of these two young kids (Derrick Favors and Enes Kanter).
PROUD PAPA: Karl Malone Jr. joined ESPN 700 and his dad for the beginning of the interview to talk about signing to play football for LSU.
"I cried today. I'm a man, but I cried," The Mailman admitted to the radio hosts. "I'm so wept up that I signed the wrong spot on the scholarship."
The Louisiana Tech guy said he's even sporting some Tigers gear in support of his son. He also said the University of Utah tried to recruit KJ. "I'm absolutely ecstatic that he's playing football and not basketball. He gets to name his own name for himself. He worked his butt off," Malone said of the 6-4, 290-pound offensive lineman, who prepped at Cedar Creek School in Ruston, La.
"This is something he earned on his own. He didn't earn it from his dad. I played basketball. Wrong sport. It's going to be pressure on him no matter what because of his last name. But the most important thing that he needs to do is just continue to play, continue to improve and whatever he do, stay humble."
TWITTER: DJJazzyJody