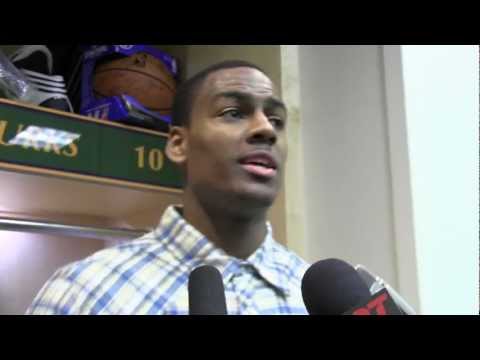 View 31 Items




SALT LAKE CITY — Enes Kanter got the bulk of the attention Wednesday night.
Deservedly so, too.
All the hoopla wasn't just for the smart-looking newsboy cap he sported — and got teased for wearing — in the locker room following the game, either.
Kanter scored 17 points, grabbed a season-high nine rebounds, swatted a career-high five shots and sent a jolt of life into a near-comatose Utah Jazz squad early in their 100-86 win over the Milwaukee Bucks at EnergySolutions Arena.
Kanter was just one storyline, though.
The big story on this night? Exactly that: The story about the bigs.
Big Al?
Try Big All.
Taking full advantage of their loaded frontcourt, the Jazz received stellar contributions from all of their other big men to complement Kanter's huge 17-minute outing.
Center Al Jefferson scored 19 points, hauled in 11 rebounds and dished out three assists.
Power forward Paul Millsap scored 19 points, collected six rebounds, had five assists, blocked four shots and had two steals (to make up for two turnovers).
As if that weren't enough inside punishment for the Bucks to take, Derrick Favors came off the bench to total 11 rebounds, nine points, three blocked shots and three steals (but four TOs).
"We knew we kind of had an advantage overall," Jefferson said. "We just played inside-out ball tonight and everybody responded well."
It didn't help the Eastern Conference team that it was missing center Larry Sanders, who hurt his back in Denver on Tuesday.
And you would've never guessed Bucks center Samuel Dalembert was coming off of a career night Tuesday in Denver (35 points, 12 rebounds) the way the Jazz dominated down low.
Dalembert had a double-double of 11 points and 10 rebounds — along with 17-point nights from Brandon Jennings and Ersan Ilyasova — but it wasn't nearly enough to keep the Jazz from beating the Bucks (25-23) for the 11th straight time in Utah.
While improving to 28-22, the Jazz outscored Milwaukee in the paint 56-36, outrebounded the visitors 50-39 and had 31 second-chance points (from 17 offensive boards) to the Bucks' 10.
"That's who we are. That's where we generate our offense from. We want to go inside. We're a load," Jazz coach Tyrone Corbin said. "Most teams have a difficult time dealing with the inside. I was happy with the fact that we stayed in it and tried to make them stop us inside. The guys did a good job of staying within the system."
The team that hasn't won in Salt Lake City since Oct. 30, 2001 noticed.
"They just dominated us on the paint," Bucks coach Jim Boylan said. "Our guys battled, but they are a physical team. That's their strength. They took advantage of it."
The Jazz had to in order to get back into this game after the Bucks stormed out to an early 12-point advantage.
From the end of the first quarter (ended on a 6-0 Utah run) through the middle part of the second period, Kanter and the Jazz simply took over as Jefferson and the starters cheered from the bench.
During the pivotal turnaround, Kanter had 11 of the Jazz's 13 points.
"He played at a high level, man," Jefferson said. "I just had a talk with him not too long ago and said I need that from him every night."
Millsap gave the Jazz the lead for good at 34-33 with a short jumper at 7:23 of the second quarter, momentarily interrupting the Turkish tide.
Utah built its own 12-point lead in the first half before settling for an eight-point halftime buffer after Jefferson quickly put back a missed DeMarre Carroll 3-pointer with 0.1 seconds remaining.
The Bucks never got closer than seven and trailed by double digits for the majority of the second half.
The strong finish — capped by a late exclamation dunk by Carroll (11 points) — helped the Jazz win their second straight game and their 11th in their past 12 home contests.
"They did a good job, especially Kanter. He was down there and had a bunch of offensive rebounds (five) in 17 minutes," Bucks forward Drew Gooden said. "Favors, all those guys, were just eating glass tonight and I think that was the difference in the game."
NOTES: Earl Watson (leg) dressed but didn't play as expected. The Jazz were also without Mo Williams (thumb) and Gordon Hayward (shoulder). Hayward has resumed basketball activities, though. "I'm shooting now, so it's better," he said. … Big Al's double-double was his team-leading 24th of the season. … Utah held Milwaukee to 35.4 percent shooting while hitting 48.1 percent.
EMAIL: [email protected]
TWITTER: DJJazzyJody