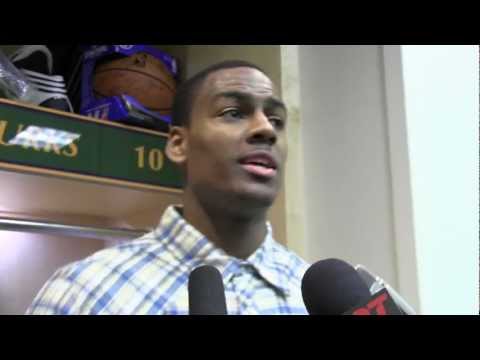 View 31 Items




SALT LAKE CITY — Outside of that historically awful loss a week-and-a-half ago to Houston, the Jazz have been more successful than ever this season in the comforts of EnergySolutions Arena, where they've played nine of their past 11 games. They've won one more game than that in the same number of contests in Salt Lake City (10 of 11); only the slip against the Rockets — as in, falling down an escalator worse than NASA dropped its space shuttle program — blemishes the record.
Spurred by perhaps their finest quarter of the season, the Jazz controlled the pace nearly the entire second half of their 100-86 win, when the Bucks never came closer than two possessions. They ended up winning the rebounding battle in easy fashion (50-38) and shot 48 percent from the field and 5 of 10 beyond the arc — helpful, considering Utah's 19 turnovers. It didn't matter that the Bucks had less when they shot a woeful 35 percent from the floor.
Taking seconds...
Utah relied on a dominating second quarter to nullify a tenuous six-point deficit after the first quarter and stay a few blends ahead of Milwaukee's brew the rest of the way. In a period the Jazz won 32-18, the reserves made the difference. For the evening, the Jazz's second team was helpful despite still being without Gordon Hayward, who is nursing a sprained right shoulder. Derrick Favors grabbed 11 rebounds in less than 22 minutes, while DeMarre Carroll's 33 minutes were his season high.
...then Turkish delight
Second-year center Enes Kanter notched 13 points and seven rebounds by halftime — already seven and three higher, respectively, than his season per-game averages — to finish with 17 points, nine rebounds and four blocks in just 16 minutes. That's a 51-point, 27-rebound, 12-block rate per 48 minutes, folks. In fact, his first-half board total was nearly 40 percent of his team's entire total by halftime, when the Jazz were outcleaned on the glass 28-16.
Al Jefferson may have kept Kanter from seeing more action since the veteran shot 8 of 12 from the field.
Odds and Ends
The Jazz improved to 15-4 when scoring at least 100 points and 22-6 when holding opponents under the century mark. They also improved to 19-5 when they shoot 45 percent or better from the field. ... Utah improved to just 14-16 when Al Jefferson scores less than 20 points (he had 19). ... The Jazz are now 5-1 when Favors grabs 10-plus rebounds.
USU student Rhett Wilkinson is the co-founder of Aggie BluePrint (USU's first student magazine), an intern for LDS Living and the public relations director for Larada Sciences. He can be reached at rhett.wilkinson@usu.edu or on Twitter: @wilklogan