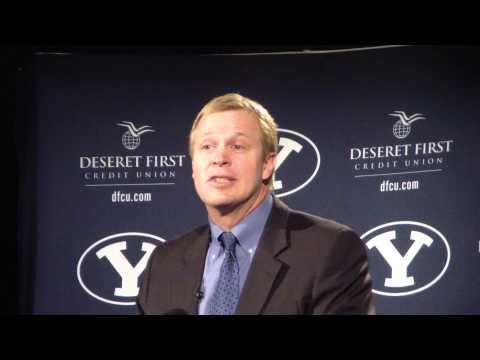 View 2 Items

PROVO — Since the conclusion of the 2012 season, BYU coach Bronco Mendenhall has been focused on fixing the program's biggest weakness — the offense.
Mendenhall has been in the process of overhauling his offensive coaching staff, which included rehiring offensive coordinator Robert Anae. Mendenhall still needs to hire a wide receivers coach and quarterbacks coach.
But revamping the offense also requires finding talented players and improving the quality and depth of the offensive line. And that was the Cougars' focus on Signing Day.
Of the 26 players BYU signed Wednesday, eight were offensive linemen. Four of those O-linemen come from the junior college ranks.
Mendenhall called the 2013 class, which was unveiled Wednesday, as "mostly need-based. Nothing random about it."
The way Anae sees it, the best way to strengthen the offense is to bolster the offensive line. "The biggest transformation on the offense," Anae said, "should start with the line."
Anae said he and newly hired Garett Tujague — who previously served as the head coach at the College of the Canyons in Santa Clarita, Calif. — will both coach the offensive line this season.
Perhaps the most highly prized recruit of all the signees is offensive lineman Brayden Kearsley, from Aloha (Ore.) High School.
"I hope Brayden gets into the offensive line culture of BYU," Anae said. "There's a lot to live up to there. My gut tells me it's going to be a lot of fun coaching that kid."
JC transfers Josh Carter and De'Ordre Wesley were also highly touted offensive linemen, and all three could make an immediate impact this fall.
With a coaching staff in flux, the BYU football program faced an unusual situation during this recruiting period.
How much impact did Anae have on this recruiting class?
"A lot," Mendenhall said. "What our original recruiting plan was, and what it ended up being, as the season went on, it changed dramatically. A lot of those players are junior college players."
At the same time, the change in staff at such a crucial time in the recruiting process posed challenges, since a few coaches were let go within a month before Signing Day.
"At first, there was a lot of uncertainty. The young men that were most affected had been recruited by staff members where I had made changes," Mendenhall said. "It was really hard. I went into each home and explained what I thought was the motive — that simply was to try to improve our program."
Mendenhall said his program lost just one player due to the coaching changes. He was able to explain to recruits why he had decided to make a change, and the reasons why Anae returned to the program.
"I started acknowledging the results we had together," Mendenhall said, referring to the number of top-25 offenses Anae produced at BYU from 2005-2009. "A track record, a history of past results that was credible. That reaction ended up being a pretty positive one over time. But I had to resolve concerns to begin with, and I expected that."
The Cougars, who are known for having a stable of early commitments, continued recruiting down to the very end, including a couple of unexpected junior college O-linemen that signed with BYU — Tim Duran and Edward Fusi.
One of the most intriguing storylines involved Logan High linebacker Chasen Andersen, the son of former Utah State coach, and currently Wisconsin coach, Gary Andersen. The Cougars play the Badgers in November.
Mendenhall said he and Gary Andersen have become good friends in recent years and that he loves the way Chasen Andersen plays the game.
Gary Andersen called Mendenhall Tuesday night to thank him for giving his son a chance to play at BYU.
"I love Chasen," Mendenhall said. "He came on a Junior Day two years ago. Even though his hair was long and all that, when he plays, he flies around and he loves BYU for what it is. That's really fun for me. I have extra responsibility to the parents of those type of kids, to make sure they make it. I like that."
The Cougars signed one quarterback, Billy Green, who is already enrolled in school and will participate in spring ball next month.
"He is really tough," Mendenhall said of Green. "He knows how to win football games, and he's passionate about being here."
In addition to the players that signed NLIs Wednesday, there are a few high school seniors who plan to go directly on LDS missions who have committed to BYU. The NCAA places a limit on the number of players a school can award each year.
BYU also released Wednesday its list of returning missionaries that will join the program in 2013: OL Jordan Black, RB Algernon Brown, LB Toloa'i Ho Ching, DL Tuni Kanuch, RB AJ Moore, LB Joey Owens, TE Bryan Sampson and DL Sae Tautu.