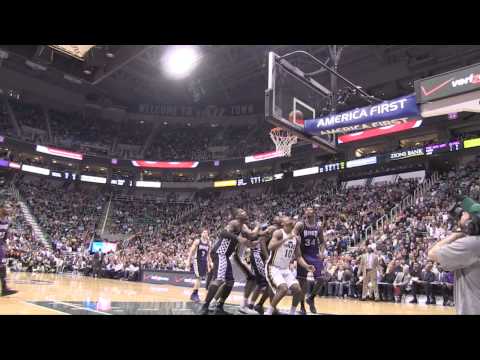 View 28 Items



SALT LAKE CITY — If you believe Al Jefferson, he was so thrilled the Utah Jazz finally started to play decent basketball in the final minutes of the fourth quarter against the Sacramento Kings on Monday night, he decided to give fans some free hoops.
That explains why Big Al threw up a Big Airball on the final shot of regulation.
"Hey, I did it on purpose, so we could go into overtime and win," Jefferson said. "I just wanted to play five extra minutes."
It probably comes as no surprise that Big Al had a big old sheepish smile on his face when he made that claim — oh yeah, and when he joked about the off-target, buzzer-blooper being an alley-oop pass.
Randy Foye opened the overtime session with a go-ahead-for-good jumper and scored six of his team-high 20 points in the bonus basketball session, helping the Jazz edge the Kings 98-91 at EnergySolutions Arena.
Otherwise, there might not have been such a frivolous feel in the locker room after the Jazz (27-22) eked out a win over a bad Kings team (17-32) they simply struggle against.
"I'm going to take it, brother. I'm going to take it," Jefferson said. "To be shorthanded and to play with low energy throughout the whole game, we found a way to come out and win so I'm going to take it all day long."
The Jazz wasted a 10-point lead and needed to rally in the final five minutes after the Kings jumped ahead by seven points on a free throw by Jason Thompson with 4:26 remaining in regulation.
"You've got to give them a lot of credit. They played hard for 48 minutes," Jazz coach Tyrone Corbin said of the Kings, who came into this contest on a three-game losing streak in what was the final outing of a six-game road trip.
"They made a run at us, but you've got to give our guys a lot of credit too. We got down, and we didn't get down on ourselves. We continued to execute."
That important stretch of execution began with a Foye 3-pointer. Marvin Williams followed that with a pair of free throws and his own shot beyond the arc.
That 8-0 spurt put the Jazz ahead by one, and Big Al split two foul shots to give Utah an 84-82 lead with 1:58 remaining.
Utah didn't score again in the fourth quarter, and the Kings' Tyreke Evans tied it at 84-all with free throws with 58.9 left.
Evans (a drive) and Jefferson (a medicine-ball toss) both missed game-winning attempts in the final 17 seconds of regulation.
Utah then outscored Sacramento 14-7 in overtime, with backup Alec Burks (season-high 14 points) playing point guard and Foye (team-high six assists) leading the way in scoring.
Paul Millsap, who finished with 14 points, also had four points and a key blocked shot in overtime. Derrick Favors (13 points and nine rebounds) and DeMarre Carroll (10 points) both provided sparks off of the Jazz's thin bench.
While the Jazz played without Mo Williams (thumb), Gordon Hayward (shoulder) and Earl Watson (leg) due to injuries, the Kings were forced to go the final 29 minutes without hot-headed DeMarcus Cousins.
The Kings center picked up his NBA-leading 11th technical foul in the second quarter, and then got tossed at halftime for bickering with referee Scott Foster at midcourt while teams went to their locker rooms.
Cousins said he was trying to give his side of the story like referees told him he was able to do. He claimed the referee didn't want to hear it after his first tech, so the volatile center approached him at halftime before getting ejected for the second time in three games against the Jazz this season.
While getting his usual mixed chorus of cheers and jeers, former BYU star Jimmer Fredette didn't have one of his better games. The backup Kings guard was 0 for 5 and only scored two points with three turnovers and two rebounds in 13 minutes.
Fredette's teammates didn't shoot much better. As a team, the Kings were 40.2 percent from the field yet still managed to force overtime against a Jazz team that had an excellent night shooting (52.8 percent).
"We're working some things out with the rotation and some personnel," Corbin said. "But they all hung in there. They stayed together. And as a result we were able to tough out a win here."
But about that last shot in regulation when Foye passed to Jefferson behind the arc? Was a deep take by a guy who's only made two 3-pointers in his nine-year career really what the Jazz were looking for?
"Good shot," Corbin said. "Missed."
Unlike with Jefferson, it wasn't clear whether the Jazz coach was joking or not.
"We wanted to get a drive to the basket. But they cut the gap off. We didn't want a screen to come up," Corbin explained. "The clock ran down. I think there was some miscommunication when Al came up and clogged it up and then Randy couldn't get anywhere, so he made a pass. But we weathered the storm."
NOTES: The Jazz improved to 3-0 in overtime this season. … Utah has won nine of 10 home games and eight of 11 overall. … The Jazz dished out 25 assists but made 22 turnovers. … Before this one, four of six Jazz-Kings games had been decided by three or fewer points. ... Cousins now leads the NBA with 12 technical fouls.
EMAIL: [email protected]
TWITTER: DJJazzyJody