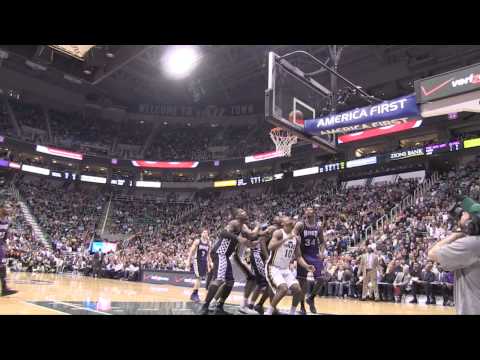 View 53 Items



SALT LAKE CITY — As usual, Alec Burks was in a hurry to escape the locker room. He's usually one of the first Jazz players to be dressed and ready to go, which makes sense when you hardly play and may not even need a shower.
Monday night, Burks was halfway out the door when a couple reporters grabbed him for 30 seconds to get his usual succinct answers.
"It felt good to be out there and I'm glad we got the win,'' he said.
But on this occasion, Burks had just played the final 22 minutes and 33 seconds of Utah's 98-91 overtime win over Sacramento and had finished with season highs in most categories. He played 31 total minutes, scored a season-high 14 points on 5-of-7 shooting, including 2 of 2 from 3-point range, tied his season high with four assists, and also played some strong defense.
While Burks wasn't anxious to talk much about himself, Jazz coach Tyrone Corbin was more than happy to discuss the second-year pro.
"He did a great job,'' Corbin said. "He's a guy that can make plays for us. I thought Alec made a couple of big shots for us, a 3-pointer and after Al (Jefferson) kicked it out, a big two-point shot for us in overtime. I thought he did a great job for us.''
The 6-foot-6 Burks has been forced to play the point guard position for the Jazz with regular starter Mo Williams out for several weeks and with backup point guard Earl Watson out with a leg injury. But he's handled his limited minutes well and really excelled in extended minutes Monday night.
"It puts him at a disadvantage playing point guard more than anything,'' said Corbin. "It's a tough position being the point guard. You've got to get the ball up the floor and get everybody in their place and Alec is by nature a scorer and a two-man. But he has great ballhandling skills and we need him right now.''
Burks didn't do much in the first half when he came in the game in relief of starting point guard Jamaal Tinsley, getting a baseline jumper, an assist, but two turnovers.
He replaced Tinsley with 5:33 left in the third quarter and never left the court, playing the rest of the third quarter, all of the fourth quarter and all five minutes of overtime.
Burks immediately knocked down a 3-pointer from the top of the key to cut the Kings' lead to three when he came back on the court in the second half. Then, with 1:53 left he sank another 3, this time from the left angle. Later, in the fourth quarter, Burks made a nice drive up the middle and flipped it up into the basket with his left hand.
His biggest basket, however, came midway through overtime with the Jazz clinging to a one-point lead.
1
comment on this story
With the shot clock winding under five seconds, Burks calmly sank an 18-footer from the left angle to put the Jazz up 90-87. The Kings never got closer.
"It's just being confident and comfortable,'' Burks said. "You work on it all day. You might as well shoot.''
"He was huge,'' said Jazz forward Marvin Williams. "He's not a natural point guard and that's probably the toughest position on the floor to play. He's been doing an awesome job, giving us quality minutes on the offensive end as well as the defensive end.''