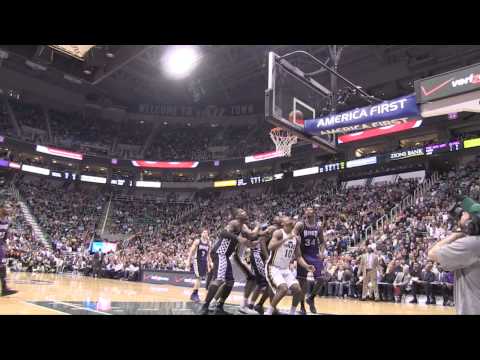 View 29 Items



SALT LAKE CITY — After a slow start and a back-and-forth pace, the Jazz found a way to hang on at home against the Kings. Randy Foye led six players in double figures with 20 points and six assists as the Jazz defeated the Kings in overtime, 98-91. The Jazz have won nine of their last 10 at home — with the only loss being a glaring blowout against Houston.
GUARDS: Jamaal Tinsely played very limited minutes and did not score, which is not unusual. The veteran point guard did manage five assists and only two turnovers. Earl Watson did not play due to injury — and usual starter Mo Williams remains out injured as well — so Alec Burks played the bulk of the point guard minutes. Foye's 20 points were huge as he continued to be on fire from 3-point land. Foye hit 6 of 12 from deep and is 12 of 24 from 3-point range over the past two games. GRADE: A-.
FORWARDS: Paul Millsap and Marvin Williams came out with strong performances just as they did against Portland. Millsap finished with 14 points and four rebounds while Williams put up eight points, including a crucial 3-pointer that put the Jazz ahead 83-82 late in the fourth quarter. Millsap had a difficult time containing Sacramento's Jason Thompson as he scored 23 points and pulled down 10 rebounds. Thompson was the only big to make a significant impact on the scoring end. GRADE: B+.
CENTERS: Jefferson notched his 23rd double-double of the season with 15 points and 12 rebounds and has been clutch all season. It was not completely Jefferson's fault, but his last-second 3-point heave to win the game didn't catch the rim or anything close to it. Jefferson did make up for the botched final possession as he accounted for the first two buckets of the overtime period. Jefferson found Foye for a long two-point jumper and hit a layup on the ensuing possession to help the Jazz gain a lead they would not relinquish. GRADE: B+.
2
comments on this story
BENCH: No Watson and no Gordon Hayward meant big minutes for Burks and the second-year pro from Colorado took full advantage of the opportunity. Burks finished with 14 points and four assists in 31 minutes and looked the most comfortable he has all season running the offense. Derrick Favors nearly finished with a double-double with 13 points and nine rebounds, while DeMarre Carroll scored 10 points. Carroll was a spark off the bench during the time where the Jazz looked sluggish. Enes Kanter finished with four points and only played 14 points. GRADE: A.
OVERALL: Sacramento gave the Jazz fits for most of the night but had the misfortune of losing DeMarcus Cousins at halftime after the center picked up his second technical foul. Utah's slow start was troubling as well as the inabilty to close out the game in regulation. However, the Jazz are undefeated in overtime and that is never a bad stat. GRADE: A.
Tyler Huskinson is a freelance journalist who loves to cover sports. You can reach him at ty.d.hus@aggiemail.usu.edu or follow him on twitter @TDHuskiSports.