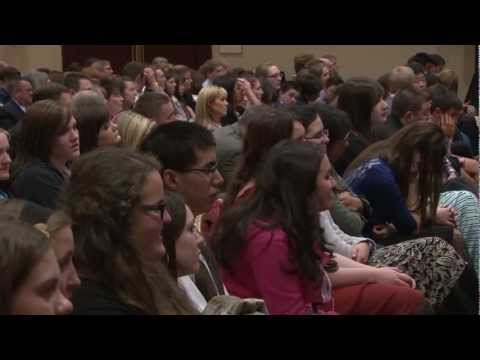 Utah League of Cities and Towns
SALT LAKE CITY — Students from throughout the state braved the snowy roads to converge on the state capitol early Wednesday morning to learn first-hand how state laws are made. They all participated in the Utah League of Cities and Towns' Local Officials Day at the Legislature.
In the lower level of the capitol building, the Hall of Governors, the students participated in a mock debate over the issue of bullying. They analyzed current state code and discussed potential changes to the measure. Then they received a surprise visit from a Utah Representative who will actually be presenting a bullying bill in the House this session, Utah Rep. Carol Spackman Moss, D-Salt Lake.
The students were then treated to hearing the insight of a man who truly understands the value of knowledge. Television game-show champion Ken Jennings of "Jeopardy!" fame spoke to the students about the rewards of curiosity. He explained how his interest in nearly everything continues to enrich his life and how learning can benefit everybody.
Comment on this story
By the time the students arrived at their next venue, they discovered a mix of game-show excitement and legislative, executive and municipal authority. A ULCT-style "Jeopardy!" game involved four teams: Team House, Team Senate, Team Gov and Team ULCT. Students watched top elected officials from their own cities and the State of Utah participate in a live quiz about Utah facts. Ken Jennings moderated the event.
After an hour of "Jeopardy!", the winners were local charities. Local businesses and the ULCT donated more than $25,000 in prize money to benefit The Road Home, Special Olympics, Boys and Girls Club of Utah County and The Homeless Youth Resource Center.
ULCT is a non partisan, inter-local, government cooperative, working to strengthen the quality of municipal government and administration. The League serves as a voice for Utah's 245 cities and towns at the county, state and federal level.