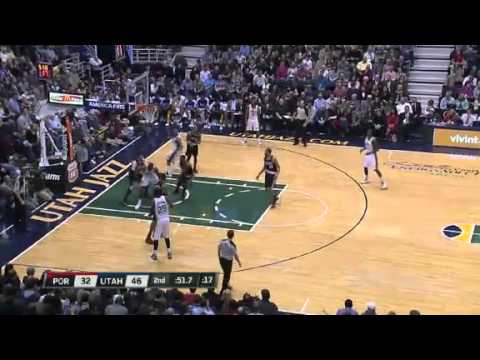 View 3 Items

The Jazz downed the Portland Trail Blazers at home Friday night, 86-77. Here are the highlights from the game.
— Portland's Damian Lillard had a monstrous game. He went 3 for 10 in the first half, but scored 20 points in the second half, going 7 for 13.
— The Jazz had four players in double figures: Al Jefferson, Randy Foye, Paul Millsap and DeMarre Carroll. However, the play of the night goes to Marvin Williams for his behind-the-back pass to himself on a cut to the hoop.
— The Jazz didn't shoot remarkably well from 3-point land. They did, however, do well on the alley-oop that Favors threw down in the third quarter.
— Portland has three former Jazzmen on their bench: Sasha Pavlovic, Wesley Matthews and Ronnie Price. Pavlovic did not play, and both Matthews and Price injured their ankles and were unable to finish the game. Matthews was wheeled off the floor on a stretcher.
— The Jazz will face the Trail Blazers again Saturday night in the Rose City.
Landon Hemsley is the sports content manager for DeseretNews.com. Email: [email protected]. Twitter: @EarlOfHemsley