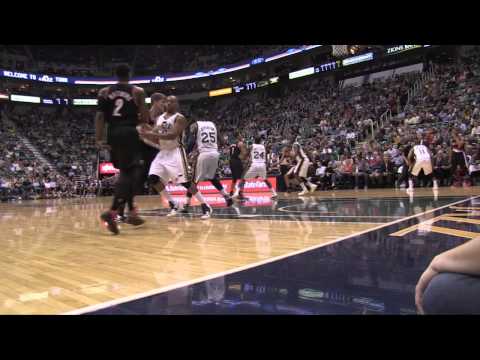 View 35 Items


SALT LAKE CITY — The Utah Jazz got a great glimpse of what might've been Friday night against Northwest Division rival Portland.
Trail Blazers rookie point guard Damian Lillard, the former Weber State star who the Jazz were extremely interested in leading up to last summer's NBA draft after Lillard had finished lighting it up in Ogden for the Wildcats, came to town for his first regular-season matchup with the Jazz.
Of course, Utah didn't have a first-round pick last year, and Portland claimed D-Lill with the sixth overall pick in the draft last June. He's done nothing but convince them that they made absolutely the right choice ever since.
After Friday's performance, consider the Jazz front office, coaching staff, players and their fans mighty impressed — if they weren't already.
Lillard shook off a slow start to score a game-high 26 points — 20 of those coming in the second half, including 14 in the third quarter alone when he was by far the most exciting, explosive and impressive player on the floor for either team.
"He's a great player and has adjusted (to the NBA game) very well," Utah center Al Jefferson said. "He's just getting better, better and better every game."
"He just plays with a great deal of confidence, great deal of confidence and a great deal of patience," Jazz teammate Marvin Williams chimed in. "He's been really big for that Portland team over there."
Veteran Jazz forward Paul Millsap likes Lillard's game, too.
"He's a tough player," Millsap said. "His toughness has made him successful and that's what gotten him this far, that and his confidence. He does well for that team. He fits that team with the people around him."
Lillard, a quick and athletic 6-foot-3 rookie who came into Friday's game averaging 18.1 points, 6.5 assists and 3.3 rebounds per game, also had five assists, three rebounds and a blocked shot in the loss.
After struggling through a 3-for-10 shooting performance in the first half, Lillard went 7 for 13 in the second half, including 3 of 6 from 3-point range with a couple of dazzling drive-and-dunks thrown in for good measure.
"He played well, particularly the second half," Portland coach Terry Stotts said of this ball-playing protege. "We went small the second half, which opened up the court for him and allowed him to either get to the rim or find the guy rolling to the basket. Damian's done that a few times this season when we need some baskets and need somebody to get us going, and he takes it upon himself to do that."
Stotts said that, in his two nearly decades as an NBA coach, he's never seen another rookie quite like Lillard.
"I can't really compare him to any other rookies that I've had," the Blazers' coach said. "He's playing at a very high level. He's been very consistent. And you wouldn't really know that he's a rookie by the way he plays or by the way he handles himself, and that's very unusual. And I haven't seen that very often in my time in the NBA."
During pregame introductions, Lillard received a warm welcome from many of the fans on hand — including a large contingent from Weber State — and the cheers for him grew louder when he got things rolling in the third quarter.
"It just felt like a welcome home," he said. "People I've been around the last four years coming to support me even though all of them are probably longtime Jazz fans. For them to cheer that loud when I came out, it meant a lot.
"I think they wanted to see me do well, and I think that probably added some excitement to the game, the fact that I was picking it up and it was turning into a game. But I wouldn't say they were cheering for me to win the game — just to do well. I couldn't see Jazz fans wanting to see their team lose.
1
comment on this story
"I just started to attack the big men on the pick and roll," he said of his superb second-half showing. "They were giving me space coming off and I had missed some shots, so I wanted to get to the rim and get some easy looks. And then I got in my rhythm and I was able to make some shots.
"I don't really pay attention to me being like any other rookies. I just try to come to work and be productive. I never really pay much attention to the rookie tag other than the duties that you have to do coming into the league. As far as being on the floor, I planned on coming in and helping the team right away. And I've been able to do that."
Anyone who watched Friday night's impressive second-half performance would certainly have to agree.
EMAIL: rhollis@desnews.com