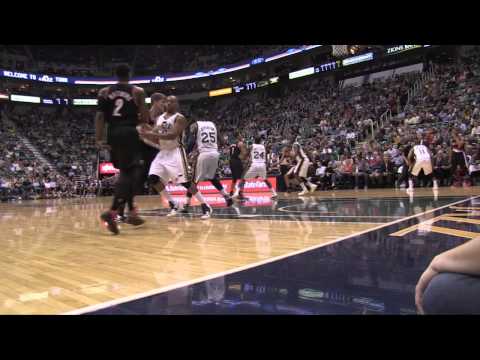 View 35 Items


SALT LAKE CITY — Some homecoming.
Utah wasn't nearly as hospitable to three guys with Beehive State basketball ties in their returns Friday night as the Jazz were to the Houston Rockets on Monday.
Part of that was by design, defense and desire.
Another part was simply bad luck.
The Jazz showed little mercy to their foe with familiar faces, executing a stingy defensive game plan while winning their second consecutive game after the 45-point blowout loss by powering past Portland, 86-77, at EnergySolutions Arena.
"I think we pretty much controlled the whole game," said Jazz center Al Jefferson, who topped Utah with 21 points, 10 rebounds and two blocked shots. "They made a little run. We knew before long, they were going to do that. I think we responded well."
Well enough to improve their record to 26-21 while winning for the eighth time in nine outings at home, where they're now 17-5 this season (125-80 loss to Houston notwithstanding).
Jazz fans who wanted to see former Weber State standout Damian Lillard's first regular-season professional game in Utah got the best of both worlds.
Lillard was dazzling in the second half, when the Blazers' rookie scored 20 of his game-high 26 points and helped Portland make it a competitive contest down the stretch.
"It just felt like a welcome home," said Lillard, who's the leading candidate for Rookie of the Year after being drafted No. 6 overall by Portland last June. "People I have been around for the last four years, coming to support me, even though all of them are probably longtime Jazz fans. … For them to cheer that loud when I came out, it meant a lot."
It would've meant even more for him had his team won, but the Blazers (23-23) will get a chance to avenge this loss tonight when the squads go at it again in Portland.
Utah also had the chance to get reacquainted with two players who were fan favorites during their Jazz tenures — Wesley Matthews and Utah Valley University product Ronnie Price.
Unfortunately, both Portland guards' nights took a turn for the worse in the second half. Matthews had to be helped off the court after rolling his right ankle in the third quarter after scoring nine points, and Price left with a right ankle injury with 2:29 remaining.
Price twisted his ankle and played through it as Portland tried to pull off a second consecutive impressive comeback. But he remained on the court in pain after fouling Randy Foye.
Foye hit both free throws, finishing with 14 points and seven rebounds, and gave the Jazz an 82-75 lead with 2:29 remaining.
"For the most part, I thought we played well. Just bouncing back after that Houston loss the other day and now today," said Foye, who only made 4 of 17 shots. "I think we are learning and we are growing. I think if we keep playing this way, we will be in good shape."
That will especially be the case if Utah continues to play defense like it did against the Trail Blazers.
Midway through the first half, the Jazz had built a 13-point lead and were shooting twice as good as the Blazers (60 percent to 30 percent).
Utah's shooting cooled off considerably (43.2 percent overall), but Portland remained off all night while hitting for only 36.7 percent.
The Jazz defense clamped up especially tight when it needed to in the fourth quarter, when Portland only scored 16 points (to Utah's 13). The Blazers whittled a 17-point lead down to five, but Foye had a key steal and Paul Millsap made a big block to help secure the victory.
"We knew we had to play defense for 48 minutes," said Jefferson after referencing Portland rallying to beat Dallas on Wednesday after trailing by 21.
"Yes, I really think that was one of our better defensive games."
Foye said the Jazz concentrated on taking away Portland's dangerous 3-point game, which played into Utah's favor because the home team dominated the interior game by outscoring the Blazers 46-36 in the paint.
"I think that Coach put together a great game plan," Foye said, "and we went out and executed 90 percent of it."
The Jazz also got strong performances from a variety of players, helping make up for the absence of Mo Williams (thumb surgery) and Gordon Hayward (shoulder).
Millsap had 15 points despite leaving temporarily in the second half after zinging his funny bone and being engaged in a tough matchup with All-Star LaMarcus Aldridge (16 points, 10 boards). DeMarre Carroll gave Utah another energetic boost off the bench with 13 points, and fellow reserve Derrick Favors dominated the boards with 12 rebounds and seven points.
"They are a good defensive team. Like I said, they are physical," Portland coach Terry Stotts said of the Jazz. "It is one of the those things where I think spacing is going to be very important (tonight)."
Added Carroll: "Inside and out, I think we match up pretty well. We won one here. Hopefully, we can go up there and win one there."
4
comments on this story
NOTES: Jazz backup point guard Earl Watson left in the fourth quarter with soreness in his lower right leg. While the team traveled to Oregon after Friday's win, Watson remained behind so he can undergo an MRI. He is scheduled to fly to Portland in time to be at the game. … Hayward will travel, but is doubtful to play after missing the past three games with a sprained right shoulder. "It's getting better every day," he said. … X-rays on Matthews' ankle were negative. He will be re-evaluated today to determine if he'll be able to play tonight at the Rose Garden. … Utah's bench outscored Portland's reserves 28-10.
EMAIL: jody@desnews.com
TWITTER: DJJazzyJody