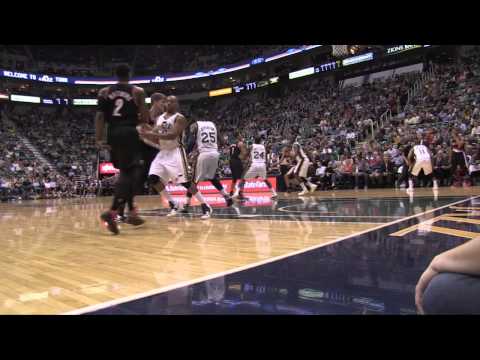 View 35 Items


SALT LAKE CITY — The Utah Jazz earned a 10-4 record during the month of January and benefited greatly from a home-heavy schedule. The Jazz began February with another win as Al Jefferson scored 21 points and pulled down 10 rebounds to lead the Jazz over the Trail Blazers, 86-77, Friday night.
GUARDS: Jamaal Tinsely finished with zero points and just two assists. The Jazz usually don't count on Tinsley for scoring, but he tends to facilitate and two assists isn't that great. Randy Foye finished with 14 points, but it took him a considerable amount of shot attempts to reach that point total. Foye was 4 of 17 from the field and 3 of 11 from 3-point land. Foye's shot selection was questionable at times, as most of his 3-point attempts were well behind the line. GRADE: C.
FORWARDS: Paul Millsap and Marvin Williams came out with strong performances. Millsap finished with 15 points while Williams notched eight points. Defensively, Millsap and Williams did a tremendous job against LaMarcus Aldridge and Nicolas Batum, as the two scored only 16 and five, respectively. GRADE: A.
CENTERS: Jefferson's double-double came fairly easy as he exploited J.J. Hickson all night long. Defensively, Jefferson got lost in the pick-and-roll several times, but given the speed and talent of Damian Lillard, that was to be expected. For the most part, Jefferson played solid defense and was fairly active on the offensive glass as he pulled down three offensive rebounds on the night. GRADE: A-.
BENCH: Earl Watson had trouble staying in the game as he repeatedly suffered an injury to his lower leg. With the injury, head coach Tyrone Corbin called upon Alec Burks to play some very meaningful minutes. Burks finished with just two points but ran the offense well and limited his turnovers to one on the night. DeMarre Carroll had the best night of the Jazz's bench players with 13 points in 21 minutes of play. Derrick Favors scored seven points and pulled down 12 rebounds in his 23 minutes of action. GRADE: B.
OVERALL: Portland is a decent team and a prime example of a squad the Jazz will be battling for a playoff spot. Lillard had his way most of the night, especially in the second half. But aside from that dark spot, the Jazz played solid defense as they limited Portland to 36 percent shooting from the field. The Jazz didn't finish at a much higher clip with 43 percent, but they did shoot 60 percent for the first half. An overall solid win against a team that could have easily stolen one at EnergySolutions Arena. GRADE: A.
Tyler Huskinson is a freelance journalist who loves to cover sports. You can reach him at ty.d.hus@aggiemail.usu.edu or follow him on Twitter at @TDHuskiSports.