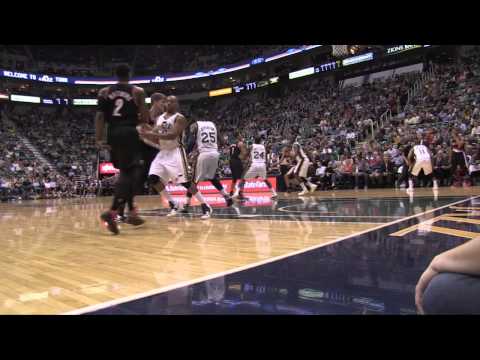 View 35 Items


Some normalcy has returned to the Utah Jazz's world. Two games after a horrific blowout defeat and one game after a closer-than-expected win, the Jazz took care of things early on at EnerySolutions Arena on Friday night, defeating Northwest Division rival Portland, 86-77, in a low-scoring affair.
The game was not bereft of intrigue, with Earl Watson and Paul Millsap both having to leave the game for spells due to minor tweaks. Likewise, former Jazz fan favorite Wesley Matthews had to exit in the third quarter with what could be a serious ankle injury.
Portland point guard and Weber State University product Damian Lillard did not disappoint. Like he has all season, the Rookie of the Year candidate showed flashes of brilliance. The speedy guard finished with 26 points and five assists in 42 minutes.
Formidable Front Court: There is no other way of describing it: The massive Utah frontcourt dominated its undersized counterparts. Portland's lack of depth was no match for the platoon of Jazz bigs.
While he did not shoot especially well, Al Jefferson picked his moments en route to a solid 22-point, 10-rebound, two-blocked shot performance. Portland's J.J. Hickson had a difficult time guarding him down low. The starting forwards, Paul Millsap and Marvin Williams, scored 15 and eight points, respectively.
Off the pine, Derrick Favors continued his strong play. While his offense was not particularly sharp, the rest of his game was. The third-year man grabbed 12 rebounds and was tough defensively, including on Portland's pick-and-roll. DeMarre Carroll's spirited first half helped set the tone for the evening. He ended with 13 points.
All in all, Utah's frontcourt outscored the Blazers' 67-38, winning the points in the paint battle 46-36. All-Star LaMarcus Aldridge struggled, hitting only 6 of 17 from the floor for 16 points.
This and that:
• Prior to Randy Foye hitting a pair of back-to-back 3-pointers early in the third quarter, the Jazz backcourt of Foye, Jamaal Tinsley, Watson, and Alec Burks had only scored one of Utah's first 52 points. It was a night where Gordon Hayward and Mo Williams' absences were especially felt on the perimeter. In fact, Tinsley and Watson did not score until the latter hit a shot clock-beating trey early in the fourth quarter. That was the only shot the duo attempted.
• Portland's shallow bench put only 10 points on the board in a collective 70 minutes of play.
• The two teams match up again, about 22 hours after Friday's game concluded.
David Smith provides instant analysis for Deseret News' Utah Jazz coverage. He works for LDS Philanthropies and also blogs for the Utah Jazz 360 website. He can be reached at mechakucha1@gmail.com or on Twitter at @davidjsmith1232.