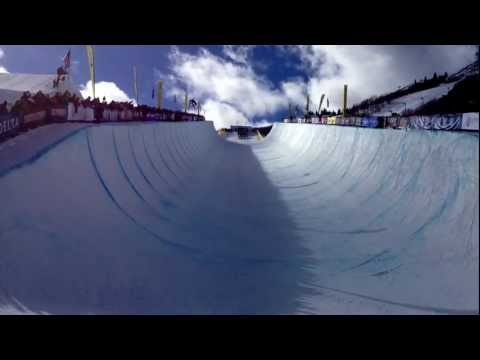 View 34 Items


PARK CITY — Luke Mitrani felt a little more pressure than he usually does when he prepares to flip, twist and fly through a frozen halfpipe.
It wasn't just the anxiety of international competition.
It wasn't because two-time Olympic gold medalist and six times X-Games champ Shaun White unexpectedly showed up for this weekend's U.S. Grand Prix at Park City Mountain Resort.
And it wasn't even the news that if he could earn a top-three finish, he would not only earn a U.S. championship but also $20,000.
The reason the normally easy-going 22-year-old struggled with nerves was the chilling memory of watching one of his best friends sufferer a career-ending, life-threatening head injury three years ago in the same pipe attempting the same trick he planned to throw in Friday's U.S. Grand Prix snowboard finals.
"Something that no one has really mentioned is that one of my best friends got hurt in this half-pipe, Kevin Pearce," said Mitrani, who finished third, which was good enough to claim the U.S. Snowboard Halfpipe Championship, determined by points earned in the two U.S. Grand Prix events. "It was a lot of pressure being up there for me, for some reason. Well, I know why. I had to do the same trick that he fell on, and I remember just being up there stressing out."
That trick is now an athlete and fan favorite — a double cork, which is essentially a twisting double back flip — and Mitrani landed it cleanly to claim bronze Friday. White won the top honors with a score of 97.25 points, while Scotty Lago was second with 94.50 and Mitrani earned 91.75 points to claim bronze. Sandy resident Louis Vito finished fifth with 87.25 points.
"The truth is, it doesn't matter who gets first or last, I've never been so happy after a run because I've always wanted to do that run," said Mitrani. "Whether I'm on top or at the bottom, I'm just happy to land my run. And just to be on the podium with Shuan, that's a big achievement for me."
It wasn't just landing a clean run, earning the podium and U.S. championship that made the 22-year-old smile.
"At the end of the day, to walk away from this half-pipe and nobody's hurt, I think it's a good achievement," he said.
There were a couple of frightening falls, including that of Chinese superstar Yiwei Zhang, who led the competition after qualifying. On his first run, he caught the lip of the halfpipe with his board and fell face first into the wall of the pipe.
White also fell on his first run, which may have worried fans but not those who have been struggling to beat him for years.
"Shaun's human, so he does fall," Mitrani said jokingly. "But he doesn't fall twice."
White said that falling on the first run actually motivated him as he prepared for his second run.
"That first run was brutal," White said. "I just misjudged that last hit and I tried to squeak it out. I ended up on my face. After that I got really motivated. I got pumped up to stick my run."
Both White and Mitrani said the extreme verticle angle of the halfpipe made landings tough.
"The front-side wall has a lot of vert on it, so it kept putting me at the bottom of the landing," White said. "It kills your speed, kills your motivation, and you've got nothing to get to the next wall, and that's what happened with the double McTwist (when) I planted my face. But I vowed to do it again, and nailed my next run."
White said he decided to compete in Park City to ensure he had enough FIS points to qualify for the Olympics next year.
"I realized I was on the lower side of my points, so I had to catch up," said White of the required 100 FIS points required to compete in the Olympic Games.
Most of the competitors weren't aware White was going to compete in this week's Grand Prix until he showed up at qualifying rounds Thursday.
"You never know with Shaun," said Lago, who earned a bronze medal in the 2010 Olympics when White claimed his second Winter Games gold. "He's on his own program. We were all kind of surprised to see him here, too, but he needed to get some points to become eligible for the Olympics."
White, they acknowledge, is about as clutch a performer as there is in any sport.
"You can never count him out obviously," said Lago. "Honestly, it's a battle for second."
Twitter: adonsports
Email: [email protected]