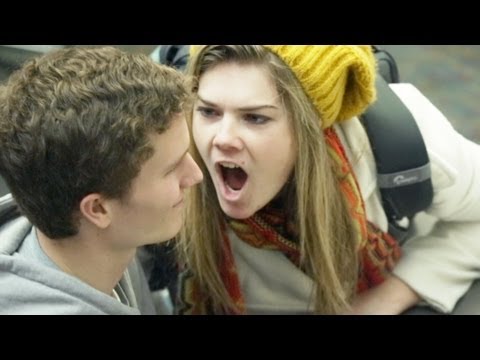 View 5 Items
YouTube


We'd usually have to coax them and get them comfortable with us before they'd say we stunk. Very few people would just straight up tell us our breath was bad.

—Stuart Edgington
PROVO — Halitosis is now viral — on YouTube, that is. 
The creators of December's mistletoe video that received more than 18 million views have hit it big again, this time while testing a report from College Magazine that says BYU is the most honest college in America. 
Smelling an opportunity for their next big gig, Utah Valley University student Stuart Edgington and Kaitlin Snow, a recent BYU graduate, treated themselves to onions, garlic and blue cheese for breakfast. They also neglected to brush their teeth and then searched campus high and low for anyone willing to tell the honest truth about their bad breath.
On Tuesday, YouTube posted the new video to its Facebook page, which is "liked" by more than 69 million followers.
"It was a lot of fun to work on. … You could kind of sense the conflict in people's mindset — should I be honest or should I be nice to this person?" Snow said. "You kind of have to embrace the awkwardness."
In their video, Snow and Edgington made up several excuses for testing their breath on complete strangers, saying they desperately needed to know for a first date or a job interview. The two received all sorts of responses. Some BYU students held their nose or offered gum; others lied and said they smelled fine.
One girl even agreed to a kiss with Edgington before suggesting he invest in some breath fresheners. To ensure students' responses were genuine, the camera was at a distance with a powerful zoom lens and they tried to shoot from unconventional angles. 
College Magazine ranked BYU first nationally for honesty after analyzing cheating levels and consequences for breaking university rules. 
"We took a look at the strictest honor codes (and) best anti-plagiarism campaigns," the report said. "BYU is notorious for its squeaky-clean honor code that goes beyond the usual cheating and plagiarism rules." 
The group chose BYU to be the site of their film because they believe students' stereotype for honesty is a legitimate one.  
"They loved the idea of pitting the honesty of BYU students against the niceness of BYU students," said Jeffrey Harmon, the marketing director at Orabrush, which helped sponsor the video as part of its extensive YouTube advertising. "It's hard to be both at once in that case."
Edgington and Snow both work with Harmon at the Provo-based business.
But when they were put to the test, even BYU students had a harder time being honest when they had to give the bad bad-breath news. More than half of interviewees failed to deliver the hard truth, and that percentage was even higher when including interviews that didn't make the video's final cut.
"We'd usually have to coax them and get them comfortable with us before they'd say we stunk," Edgington said. "Very few people would just straight up tell us our breath was bad."
Since hitting it big with their mistletoe video, Edgington, Snow and fellow actor Nate Turley had been looking for a fitting encore to the video that had made them Internet sensations. In that viral video, the filmmakers surveyed students about Christmas traditions and then uncovered a mistletoe to capture people's responses.
The group has now published several popular videos on YouTube's Stuart Edge Channel, and they say it's a strange sensation to be recognized by total strangers. 
"It's been crazy," Snow said. "I didn't even share (the videos) on my own page and suddenly I'm flooded with notifications and people are coming up to me on campus and saying, 'Hey, great job with that.'" 
Edgington may have found the secret to going viral, but for now he's still a college student hoping to make it big one day in full-time directing or producing.
"What I'm doing now is simple. When an idea comes to mind, I shoot it and see if it works," Edgington said. "This YouTube stuff looks great on a resume, but eventually I want to get into longer films."
E-mail: [email protected], Twitter: @benlockhart89