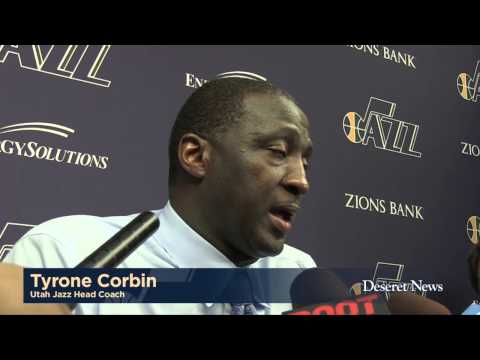 View 39 Items


SALT LAKE CITY — Last year, the Miami Heat rode the performance of their talented and highly touted "Big Three" to an NBA championship.
A few years earlier, the Boston Celtics did the same thing.
In Utah, though, it's not the "Big Three" that people talk about. Instead, it's the "Three Bigs" — Paul Millsap, Al Jefferson and Derrick Favors. Much of that talk centers around how the Jazz need to trade one of their veteran big men, Millsap or Jefferson, in order to get more playing time for Favors, the young up-and-comer with so much promise.
But Wednesday night at EnergySolutions Arena, on the heels of an embarrassing 45-point home-court beatdown by the Houston Rockets two nights earlier, the Jazz needed all of the Three Bigs to come through in a big, big, big way for a vital 104-99 bounce-back victory over the New Orleans Hornets.
During different stages of the game, each one of the Three Bigs took turns putting the team on his back and carrying it.
And with spark plug performances by point guard Earl Watson and shooting guard Alec Burks off the bench, it was enough for the Jazz to get the terrible taste of Monday's lopsided loss out of their mouths.
Millsap, a 6-foot-8 forward who always seems to be the subject of trade rumors, scored a game-high 25 points — including 11 in the third quarter and eight more in the fourth — pulled down 10 rebounds and blocked a couple of shots. He grabbed three of those boards off Hornets' missed shots in the final couple of minutes when the visitors were threatening to overtake the Jazz down the stretch.
"That's our bread and butter," Millsap said of the Three Bigs' stellar performance. "When we get the ball down low, get points in the paint and get out and run, we are a tough team to beat. We have to get out and do that more often.
"There are a lot of guys on this team who can really score the ball, especially when they get into rhythm. And it's a long game, a long game, and we've got a lot of guys who can do it, so we need that kind of help throughout the course of the game.
"It think it was very important," Millsap said of the win. "We needed this. We needed this for our mental (state of mind). We needed this for our fans after what we did (Monday) night. After what happened to us, this is a big win for us."
Jefferson added 22 points and five boards, and the 6-10 center scored six of his points in a critical two-and-a-half-minute span of the fourth quarter late in the game with the outcome still very much in doubt.
"I feel real comfortable doing it," Big Al said of his willingness to take crucial shots with the game on the line. "I feel late in the game I'm the guy to go to."
Favors contributed 15 points and six boards, and the 6-10 forward scored nine of those points in a four-minute stretch of the second quarter to help Utah rally from the 10-point hole (29-19) it had dug itself after the first period.
"I just wanted to be aggressive," he said, "just come in and be aggressive and play my game and try to make an impact.
"That's pretty much what the game plan was — get the easy points inside first and then just play inside-out once they brought the double team, kick it out and get open 3s or whatever. We just wanted to play aggressive but play hard. ... We just wanted to forget about that and come out here and get a win and just forget about that (Monday blowout) game."
Jazz coach Tyrone Corbin certainly liked what he got out of the Three Bigs.
"Those guys have to carry us," he said. "When we get clogged down, that's where the ball's gonna go, and everybody knows it's going to end up in their hands. We've got to make sure we get some guys cutting and getting some action on the weak side so they get a one-on-one opportunity and give everybody a chance.
"If we get the ball in a one-on-one situation with most of those guys, we feel pretty good about it. If we get it to Al on the spot on the block, we feel great about that. Plus, the fact that they come and double (team) and we rotate and get a good pass out and the guys on the perimeter can hit shots there. So we need everybody to stay engaged with what's going on during the course of the game."
And on Wednesday night, the Three Bigs, plus Watson, Burks and Marvin Williams, certainly were.
EMAIL: rhollis@desnews.com