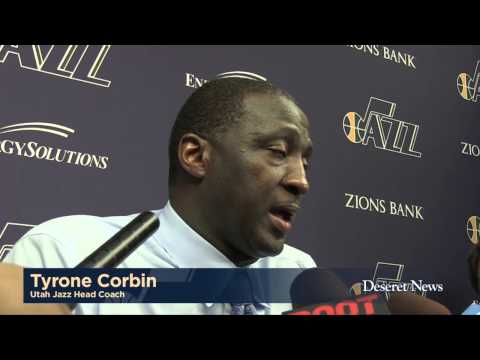 View 40 Items


The Utah Jazz got back on track Wednesday night with a 104-99 win over the New Orleans Hornets.
The Jazz players came into Wednesday's game with a lot to prove after their record 45-point loss to the Houston Rockets on Monday. Wednesday's win was far from perfect against an average New Orleans Hornets, but it was a win nonetheless.
Guards: Randy Foye made some important three-point shots to get Utah back in the game in the second quarter. He also had 8 assists, and finished the game with 14 points — a good performance from the point guard.
Jamaal Tinsley has had better games for the Jazz, but he was not terrible either. Grade: B
Forwards: After a quiet first half, Paul Millsap was the standout forward with a huge double-double Wednesday. Millsap almost forgot to show up in the first half but had an excellent all-round second half to make his presence felt in a big way. Shooting well from the field and 11 of 16 from the free-throw line, Millsap finished the game with a crucial 25 points and 10 rebounds.
Marvin Williams also had a solid game, with 11 points and 7 rebounds. Utah has needed Williams to step up with Gordon Hayward out injured. He failed to do so against the Rockets, but he should be pleased with the way that he played Wednesday. Grade: A-
Center: Utah's go-to guy, Al Jefferson was at it again. The big man had 22 points, most of which came at crunch-time in the fourth quarter. Grade: B+
Bench: The bench players got the Jazz back into it in the first half and were instrumental in handing Utah this win. Derrick Favors had a huge impact coming off the bench in the second quarter, with 11 points in the first half. He added four more to get a final tally of 15. We also saw good performances from DeMarre Carroll in the first half and Alec Burks with eight points in the second half. Grade: A-
Overall: After a slow start, the Jazz managed to pull themselves back into the game, both on offense and defense. Despite this being a key win, the Jazz never managed to establish a strong lead, and as a result made things harder for themselves. After the embarrassment suffered against Houston however, the important thing was the win Wednesday, and although it wasn't pretty, a win was what they got. Grade: A-
Follow Rachel Bascom on Twitter @Rachel_Bascom or email her at rbascom@deseretnews.com.