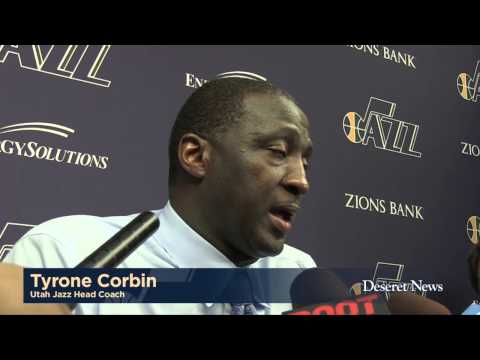 View 40 Items


Fresh off the worst home loss in Utah Jazz history, Jazz players regrouped and redeemed themselves with a good effort and balanced scoring Wednesday night. The result was a much-needed victory, 104-99, over the visiting New Orleans Hornets.
Two nights after succumbing to a 45-point throttling against Houston, things appeared to be carrying over early on. The Hornets, who have given the Jazz a lot of trouble the past two seasons, darted out to a 10-point lead at the end of the first quarter. Utah boosted its own morale with a spirited 32-18 second quarter, which turned things around. While it remained close, the Jazz led the rest of the game.
Bench Productivity: After really struggling versus the Houston Rocket reserves, the Jazz bench worked hard to eliminate the bad taste from that embarrassing loss.
While it still is missing injured sixth man Gordon Hayward, the Utah bench provided a spark that got things going. Fueled by a strong second quarter, Derrick Favors led the way with 15 points (6-9 from the floor), six rebounds and some strong defensive stops.
Alec Burks did most of his damage in the fourth quarter, scoring all eight of his points therein. While he did not add much to the scoring column, Earl Watson put his imprint on the game with five assists (compared to zero turnovers) and six rebounds in 27 minutes.
Strangely enough, the New Orleans bench outscored its Utah counterparts 41-30, but the Jazz reserves each had plus-minus marks of at least plus-6.
Balanced Basketball: When the Jazz spread the scoring around, they are difficult to beat. Such was the case once again against the Hornets.
Comment on this story
Paul Millsap paced the Jazz with an impressive 25-point outing. He connected on 11 of 16 from the floor and was active throughout, earning 16 trips to the free-throw line. His frontcourt partner, Al Jefferson, was big down the stretch and finished with 22 points.
Beside Favors, Randy Foye (15 points) and Marvin Williams (11 points) also reached the double-figure threshold.
Odds n' Ends:
• The game was not a study in free-throw shooting. The two squads combined to miss 25 shots from the charity stripe.
• After hitting seven of their first 15 3-point attempts, New Orleans was only 1-7 the rest of the way.
David Smith provides instant analysis for Deseret News' Utah Jazz coverage. He works for LDS Philanthropies and also blogs for the Utah Jazz 360 website. He can be reached at mechakucha1@gmail.com or on Twitter at davidjsmith1232.