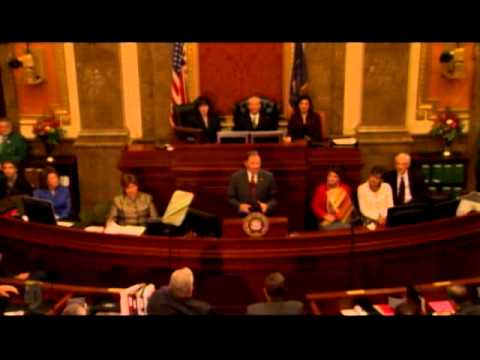 View 15 Items
Utah State Government

SALT LAKE CITY — Education is the key to a robust economy, Gov. Gary Herbert said.
"Education is the largest and most important investment Utah makes," Herbert said in his State of the State address Wednesday at the Capitol.
"While we recognize that money isn't everything, we should still take note that while so many states face shrinking budgets and bleak forecasts, Utah has the means, the vision and the commitment to rank education as its top priority."
In his 30-minute speech, Herbert recognized an elementary school teacher, three firefighters who were injured fighting a wildfire near Oak City last summer, and a state worker who survived two heart surgeries due to a medical device made in Utah.
Herbert also highlighted the state's economic successes throughout the year, including its continued business innovation, economic stability and low unemployment. He also noted that 71,000 Utahns don't have jobs and vowed to work with the Legislature to empower the private sector to create more opportunities.
The Republican governor's speech came on the same day that a new poll shows him with an 83 percent job approval rating.
Utah is leading the nation out of the "Great Recession," Herbert said. State leaders must be vigilant to maintain low taxes and sensible regulation with the idea that the private sector, not government, will propel the state to prosperity, he said.
The governor reiterated his goal of having 66 percent of Utahns obtain a college degree or certificate by 2020. And he called on lawmakers to pass a resolution supporting that plan.
How much Utah has to spend on education this year depends on tax and spending decisions in Washington, D.C. The state could be several hundred million dollars short of what budget officials initially anticipated.
"Once the federal dust settles, whether there is little to spend or a lot, education must continue to be our top priority. We can afford nothing less," said Herbert, who was elected to his first full term in November.
Rep. Brian King, D-Salt Lake City, said he likes some of Herbert's budget proposals for education, but they don't go far enough.
"I think that we need to come up with greater sources of revenue with greater funding for public education. I think the governor is reluctant to propose any new revenue. I think that's a problem," he said.
King wants to raise income tax on higher-income Utahns and increase and close loopholes in the severance tax. He listed teacher development and class size reduction as targets for new revenue.
"We need better resources to allow for teachers to be able to their jobs well," King said.
Success in education, Herbert said, starts with teachers like Maria Contreras of Alta View Elementary School, where the dual immersion program has 275 students. For Contreras, teaching is about more than helping children learn Spanish, Chinese or French. It's about cultural literacy, academic excellence and preparing students for the global economy, Herbert said.
Education, particularly in science, technology, engineering and math, or STEM, is essential to developing Utah's workforce, he said. Herbert proposed the state spend $20 million on STEM education, which would be matched by Utah's eight colleges and universities for a total of $40 million.
Companies like Adobe and Microsoft expanding in northern Utah County and eBay and Oracle in southern Salt Lake County are making that area an information technology hub, the governor said.
Herbert said it's time to get serious about finding a new location for the Utah State Prison and use the current 700-acre site to grow the state IT industry.
"Sometimes promoting economic development means accepting the herculean task of moving and modernizing a prison," he said.
Senate President Wayne Niederhauser, R-Sandy, said there will likely be some action this session to start the process of moving the prison. The idea that will probably fly is the creation of an authority to oversee relocation and development of the land.
Herbert pointed to Allyson Gamble as example of how business innovation impacts people's lives. Gamble, who runs the Capitol Preservation Board office, has survived two heart transplants. The devices and procedures that saved her life were created by Edwards Lifesciences, a growing company that has a facility in Utah.
The governor also honored Clarke Christensen, Ross Anderson and Camron Nielson, all of whom were injured fighting the Clay Springs fire in what was one of Utah's worst wildfire seasons in history.
Energy development and conservation were also prominent themes in Herbert's speech. He called on residents to use 25 percent less water by 2025 and find ways to cause less air pollution.
Herbert's speech comes at a time when he appears to be riding high among Utahns, according to a poll released Wednesday.
The Center for the Study of Elections and Democracy at BYU found 83 percent of voters approve of the job he is doing, including 37 percent who strongly approve.
The poll also found that 82 percent have a favorable impression of the governor, while 15 percent have an unfavorable impression. Key Research Solutions surveyed 500 registered voters for the center Jan. 22-25. The poll has an margin of error of plus or minus 4.4 percent.
E-mail: [email protected]
Twitter: dennisromboy