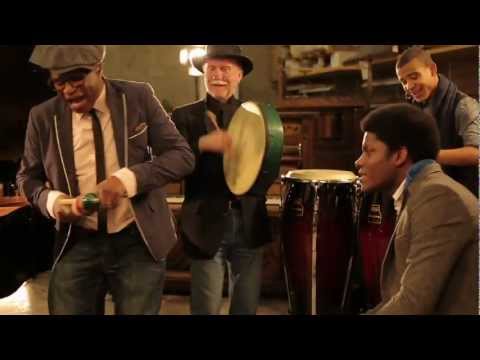 View 2 Items

Alex Boyé is expanding his singing career one song at a time, adding his newest "ethnic cover" of The Lumineers' "Ho Hey" to his repertoire of African covers — but that's not all that's new.
Boyé is taking his talents on the road, or rather, the ocean. Representatives from Salt Lake City-based travel agency Morris Murdock called Boyé, inviting him to be musical entertainment on the Royal Caribbean cruise liner, which will visit the Caribbean and the U.S. Virgin Islands Oct. 19–27.
His enthusiastic response? "Do I want to come perform on the ship? Well am I black?" Needless to say, Boyé jumped on the opportunity to perform.
Not only will passengers visit the islands, but they also "will have a private seminar with Alex where he will tell you about his life in England, his conversion to the LDS Church and his decision to move to the U.S. and pursue his career here on a different path than what it was in the U.K.," according to the travel agency.
Pianist Brigham Larson commands the ivories in this upbeat Lumineers' cover, and with more than two hours of footage, Larson's family made the cut in the three-minute video.
But Larson and Boyé's encounter and video collaboration was everything but expected.
Larson invited the Mormon Tabernacle Choir singer to participate in a concert series last fall, where talented artists perform in an intimate concert using Larson's well-built pianos from his business in Pleasant Grove.
During intermission, Larson's persistence finally paid off. "He just kept begging to jam with me, so I said, 'Fine. One song,' " Boyé said.
Just "one" song during intermission turned into 10 minutes of jamming, snowballing into 10 impromptu songs on stage for the crowd. Boyé was pleasantly surprised, recalling "he (Larson) brought down the house. People were going crazy, and I told him we needed to do a video."
And that video was "Ho Hey," which has received more than 285,000 YouTube hits in just two weeks.
"I wanted to do a song that was a more family friendly love song," Boyé said. The catchy ballad says, "I belong with you, you belong with me," which is why he wanted "different colored people in the video — it's a message about different races, faces … to show we're all connected in some way."
Boyé said of the "Ho Hey" cover he'll perform on the ship: "I wanted to do something really cool and hip, but something that kids could also listen to. There's a lot of hate going on, and this (song) is my little message I wanted to send people, because if we're all turned inside out, we're all the same," the father of three said.
For more information on the cruise, contact Wendy Fracchia, 801-483-5285.