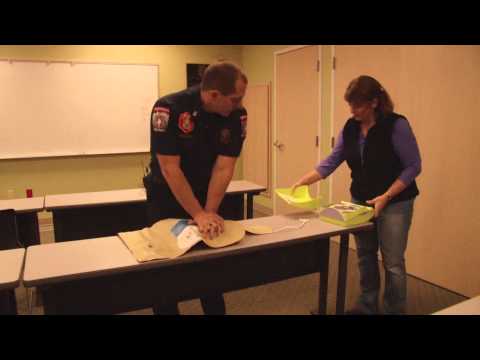 View 2 Items
Utah League of Cities and Towns

You can never say, 'This will never happen to me.' You just have to be ready. You have to know how to use them. I hope I never have to do this again.

—Mike Williams, USU basketball team trainer
"Stay calm. Check responsiveness. Call for help." These simple instructions come from a device that is saving thousands of lives each year. When someone collapses from sudden cardiac arrest, it may be the tool that restores a heartbeat.
This portable device is an Automated External Defibrillator, known as an AED, and the fire chief of South Jordan is about to push for legislation making AEDs mandatory in school buildings and emergency vehicles.
In most communities, according to chief Chris Evans, the chance of surviving a sudden cardiac arrest is only 5 percent to 7 percent. For every minute that passes without CPR and defibrillation, the chances of surviving decrease by 7 percent to 10 percent. If CPR and defibrillation occur within the first five minutes, about 47 percent of those who have had witnessed sudden cardiac arrests survive.
Perhaps no one knows the value of AEDs as well as Utah State basketball player Danny Berger. Berger collapsed on the court in early December during a routine practice.
"I felt completely normal during the whole practice," Berger said. "All of a sudden I got lightheaded like when you stand up too fast. I kind of felt my body shut down and black out."
Team trainer Mike Williams watched Berger drop.
"When I got there he was still breathing," Williams said about the experience. "(Berger) was gasping, fighting for breath, and I felt a pulse." But soon, the pulse was gone. Williams said, "The first thing I did was yell for the AED and 911, and one of our student managers, Jesse, had run up to get it already."
The AED was in the team training room about 30 feet away. It took about a minute for Williams to grab the device and administer the massive shock that brought back a heartbeat. He said, "It came back quick. It came back strong; it's like … there it is, and it's normal."
In the Salt Lake Valley, the city of South Jordan has trained hundreds of citizens how to use the AED. The small machines are placed prominently on walls in many city buildings, often next to fire extinguishers. There is an AED in every police and fire vehicle. They are in churches, many health clubs and areas that host sporting events. The AEDs have been used in South Jordan to save lives.
Evans would like to see all Utah cities with AEDs as accessible as they are in South Jordan. His proposed bill is designed to tap into tobacco tax funds and an appropriation from the tobacco master settlement in order to fund the placement of AEDs in patrol vehicles and in schools holding 200 or more people.
After Berger's life-and-death experience in Logan, the basketball player said he's changed his focus on what's important in life. "I want a family and I want to live life … being a better person every day and just trying to improve," he said.
For his part, Williams said the experience changed his perspective, not just on how people interact with each other, but on how we can help educate one another, which includes teaching the value of lifesaving skills such as using an automated defibrillator.
"I've been (at Utah State) 14 years and used (the AED) once," Williams said. "You can never say, 'This will never happen to me.' You just have to be ready. You have to know how to use them. I hope I never have to do this again."