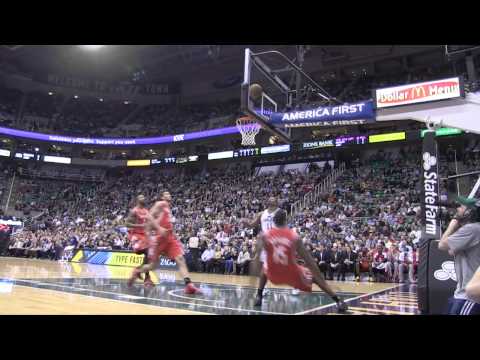 View 25 Items


SALT LAKE CITY — To sum up Monday's game, the Houston Rockets began the night with a 125-75 run against the Utah Jazz.
The Jazz answered with a 5-0 spurt when Alec Burks made a layup and rookie Kevin Murphy hit a 3-pointer.
Two-point-four seconds later, the game was over.
Mercifully.
The good news?
Murphy's 25-foot make prevented the Jazz from suffering the worst loss since they moved to Utah from New Orleans in 1979.
The bad news?
Just the other 47 minutes and 57.6 seconds of the Rockets' incredible 125-80 dismantling of the Jazz at EnergySolutions Arena.
It was by far the worst home loss in the franchise's 39-season history. It was the fifth-worst loss the Jazz have ever had. And it was the biggest margin of defeat the Utah era has experienced since John Stockton, Karl Malone and crew fell to the Los Angeles Lakers 113-67 on Feb. 4, 2000.
"It was like everything went wrong," Jazz center Al Jefferson said. "Everything went wrong."
Amazingly, that might have been an understatement.
While their lead ballooned — blimped, more accurately — to a massive 50 points, the greedy and spot-on visitors piled it on.
From outside, where the Rockets hit 16-of-34 3-pointers.
From inside, where they outscored Utah 42-36.
In fast-break opportunities, where they had a massive 26-2 advantage.
And, well, from everywhere on a night they hit 52.8 percent of their shots compared to 39.5 percent shooting by the apathetic home team.
"Whether you lose by one or by 45 like we did tonight, it's one loss. That's the main thing," Jazz coach Tyrone Corbin said. "This team has shown a lot of grit and character all year long and we'll respond."
The Jazz have until Wednesday to improve by 46 points or visiting New Orleans might take it out on the shell-shocked squad that only scored 58 points in the final three quarters.
Turns out, injured swingman Gordon Hayward (sprained right shoulder) was hardly the only thing the Jazz were missing on this bizarre home no-show.
"I thought we started the game no different than we have before," said Jefferson, whose team was tied at 22-all with Houston near the end of the first quarter. "They came ready to play. I don't know where our energy was. I don't know where our focus was. But between now and Wednesday, we better find it."
While the Jazz missed Hayward's energetic boost off the bench, it was the starters who were more invisible than a certain football player's ex-faux-girlfriend.
Marvin Williams scored seven points, and the small forward was the hot starter (3 for 6). Randy Foye led the Jazz with 12 points but missed 8-of-13 shots. Jefferson went 5 for 14 en route to a rough 10-point effort against 7-footer Omer Asik. Paul Millsap misfired on 7 of 9 attempts for four points, and Jamaal Tinsley was 2 for 5 for six points.
Combined, the Jazz starters were a miserable 17 for 47 and only scored 39 points.
Houston got more scoring from the efforts of one starter (James Harden, 25 points) and one reserve (Marcus Morris, 16 points).
"So many things went wrong," Millsap said. "You are going to have nights where nothing goes right for you and everything goes right for the other team. It was that kind of night and we just have to push forward."
That will begin with a practice this morning that should be plenty of "fun," no doubt.
Corbin said he will re-watch the game film in hopes of taking "something from it." Unless he changes his mind, the players might thank him later because he isn't going to make them view it again.
"I don't think the guys need to see this over again," he said.
Experiencing it once in person was bad enough.
"It was hard to watch," Hayward said.
Tell the fans about it. The 18,387 spectators in attendance were vocal from early on, booing throughout the pathetic performance.
Mock cheers erupted, however, when Rocket reserve James Anderson fired in a 3-pointer with 27.6 seconds remaining to put Houston up 125-75.
"If I was them, I would've booed us too. It's not weird," Jefferson said. "That's what we love about our fans. They're with us. They're going to tell us the truth. We should've been booing ourselves."
NOTES: The Jazz's biggest loss was a 56-point blowout at Milwaukee on March 14, 1979, when the Bucks throttled New Orleans 158-102. The franchise suffered three 46-point losses, all after moving to Utah. … The Jazz's previous worst home loss was a 33-point setback (126-93) against Milwaukee on Nov. 18, 1980. … This was the Jazz's worst offensive output of the season. Utah won its previous low-scoring game, 83-76, at Washington on Nov. 17. ... Murphy had a career-best nine points.
EMAIL: [email protected]
TWITTER: DJJazzyJody