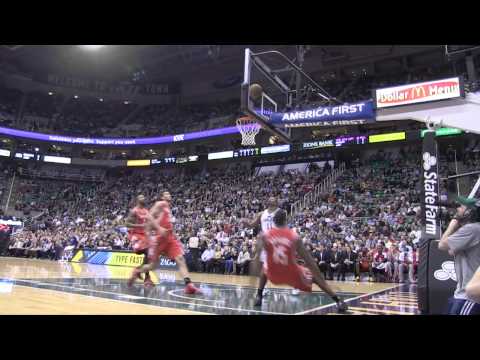 View 25 Items


SALT LAKE CITY — When you lose by a record 45 points on your home court to a team behind you in the standings, an awful lot of things have to go wrong.
They certainly did Monday night for the Utah Jazz.
Chief among the Jazz's woes was their "matador" defense as they let the Houston Rockets make easy basket after easy basket in building an 18-point halftime lead. Then in the second half, when the Jazz stopped waving their red capes in the paint, the Rockets turned to their 3-point shooting and sank 12 of 20 from long range to turn the game into an embarrassing laugher.
"They got easy baskets all game long,'' said Jazz coach Tyrone Corbin. "Our defense was not there all night — on the ball or on the weak side.''
The damage was done early as James Harden, who had a poor game in the Rockets' first visit to Utah (a 102-91 Jazz win), found a wide-open lane as he scored 18 first-half points. Most were on drives up the middle, punctuated by a highlight-reel slam dunk with 10 seconds left in the half.
The Rockets also clearly outhustled the Jazz in the opening half, getting 20 fast-break points compared to two for Utah. For the game it was 26 for Houston and just two for the Jazz.
"You've got to get back,'' said Corbin. "You've got to make shots first of all. You've got to shorten the clock and not take long shots at the end of the clock. They got long rebounds and were able to get out in transition.''
"I can't remember the last time we got two points in transition,'' added Paul Millsap. "That's not like us.''
The Jazz played without Gordon Hayward, who missed his first game of the year with a shoulder sprain he sustained Saturday against Indiana. Both Corbin and some of the players said they missed Hayward, but as Al Jefferson said, "We could have had Michael Jordan in his prime and still lost'' the way the rest of the team played.
You wouldn't think there would be a turning point in a 45-point loss, but for the Jazz it came late in the first quarter when Hayward would normally have been playing.
The Jazz had fought back from an early nine-point deficit to tie the game at 22 late in the first quarter. However in the final 44 seconds, the Rockets scored three baskets — thanks in part to bad passes by DeMarre Carroll and Alec Burks — and led 28-22 heading into the second quarter.
With five Jazz reserves in the game, minus Hayward, the Rockets pushed their lead to 41-26 midway through the second quarter before the Jazz starters returned.
By then it was too late.
"I thought it hurt us (not having Hayward),'' Corbin said. "We fought back and tied it at 22, but they had two easy scores at the end of the quarter and they rolled from there. We could never get it back for whatever reason.''