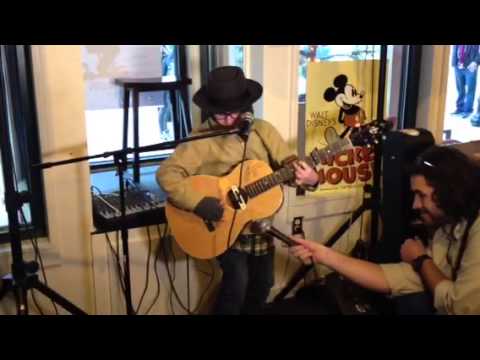 View 3 Items

PARK CITY — Celebrities, filmmakers and locals line the streets of Park City every year to participate in the Sundance Film Festival, one of the biggest independent film festivals in the world. This year, 11-year-old Sam Thornbrue of Ogden, Utah, wowed hundreds of people on those streets with his guitar.
Also known as "Sammy Brue," this self-proclaimed "troubadour in training" received a guitar from his dad for Christmas in 2011 and immediately fell in love with the instrument.
Just more than a year later, Sammy has written nine original songs and frequently plays at music venues such as Mojo's Cafe in Ogden.
"My dad taught me three chords, and then after that I just taught myself how to play," Sammy said.
Sammy's lyrics sound as if they are coming from someone much older than 11. Inspired by artists such as the Avett Brothers and Woody Guthrie, Sammy says he spends about three days writing his original songs.
The Thornbrue family made the trek up to Park City so Sammy could have the opportunity to play on the street during the festival.
"I got kicked off the street by the cops, but I went down to the Independent Filmmakers Lounge," Sammy said. "After that, they escorted me to the Fender Music Lodge. I got very big reactions from people."
Sammy's father, Mike Thornbrue, has been very involved in his son's music. After he realized his timid son didn't enjoy participating in organized sports or teams, he purchased a guitar so Sammy could find his passion in something he would be comfortable with.
"A year ago, there's no way Sam would even talk to people. He was very shy, very closed off," Mike said. "For someone who, a year ago, wouldn't talk to a person one-on-one, it was amazing to see him play in front of a crowd of people without being intimidated a bit."
Sammy writes songs inspired by examples he's witnessed in his life. For example, "LeRoy the Drifter" was written after his grandfather passed away last year. LeRoy suffered from schizophrenia and lived part of his life "drifting," as he rode the rails.
Sammy wrote that song to tell his grandpa's story. It includes lyrics such as, "Some call him a drifter/ Others say he went mad/ He roamed from town to town/ With all he had upon his back."
Another inspirational song was written for the Purple Heart Organization in Ogden. Sammy learned on Facebook that the organization was being charged $75 to participate in a parade, and he offered to fund the expense. The organization didn't accept the money, so, instead, after researching world wars and what it takes to earn a Purple Heart, Sammy wrote a song about the brave soldiers.
Sammy performed the song for members of the Purple Heart Organization singing lyrics such as, "Well you wear your hearts on the ends of your sleeves/ And they're purple but nobody sees/ You earned it one night in the heat of a fight/ While you were fighting for this country."
"If you watch him watch other performers, it's more of a study than enjoyment," Mike said. "We went and saw Country Joe McDonald up in Park City when he was doing his Woody Guthrie tribute, and you could see a fascination in Sam's eyes while he was watching it."
On average, Sammy practices his guitar between one and two hours a day after school.
"First, I have to do my homework," Sammy said.
Sammy hopes to continue inspiring people through his music and hopes to cotinue living in Utah.
Several people approached the Thornbrues to hear more about Sammy, including "Good Morning America." Mike Thornbrue and his family fully intend to support Sammy in whatever direction he decides to go.
"If he wants to go get it, we'll support him in any way we can. But if he wants to just keep playing street corners in Utah, that'll be just as fun," Mike said. "As long as he has a smile on his face, that's all that matters.
Megan Marsden is an intern at the Deseret News, writing for the Faith & Family section. She is currently a junior at BYU-Idaho studying communication.