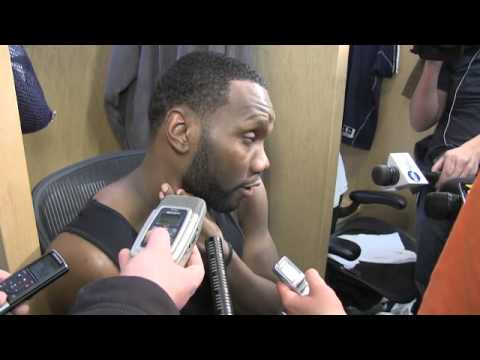 View 25 Items


Just 21 hours after losing in disappointing fashion, the Utah Jazz bounced back to earn a hard-fought victory over the Indiana Pacers. In a game that was full of dramatics, including an overtime period, the Jazz dug deep enough to come out on top, 114-110.
The Jazz coughed up a late eight-point lead on some bizarre plays in regulation, but redeemed themselves in the overtime to win on the second of a back-to-back game.
There was certainly not a dearth of stellar performances by both teams. For the Utah Jazz, their veteran front court pair of Al Jefferson and Paul Millsap led the way. The duo combined to go 19 of 33 from the field, combining for 46 points. While their rebounding was subpar, the rest of their games were on target.
Gordon Hayward shook off some potentially demoralizing plays in the fourth quarter to play a steady overtime. His blocked shot on George Paul's three-point attempt with a few seconds remaining sealed the victory.
For Indiana, vets George Hill and David West gave it their all. Hill nearly recorded a triple in defeat, stuffing the stat sheet with 22 points, eight assists and nine rebounds. His defense was integral, especially in the series of huge picks. Along with his usual offensive steadiness, West too was very good defensively. The All-Star forward recorded 24 points, seven rebounds, three blocked shots and two steals.
Just tapped as an All-Star, Paul George added 23 points, five rebounds and four assists of his own.
Strange statistics: Like the overall tenor of the game, the numbers lent to the odd nature of Saturday's contest. Here are a few examples:
· It was a high-scoring affair, thanks to excellent offense from both teams. The Pacers shot 54.3 percent from the field while also hitting 83.3 percent from the free throw line. Their opponents were equally good, with marks of 53 percent and 88.5 percent, respectively.
· The pure shooting did not extend as much behind the arc, as the two squads managed just 10 of 31 shooting from three-point range.
· The battle of the boards easily went to the Pacers, 41-28. At one point in the third quarter, the difference was more polarized as Indiana had 33 to Utah's 13.
· Utah had 17 steals, notching 15 of them midway through the third quarter. In fact, at the juncture, the Jazz had more assists (18) and steals (15) than rebounds (13).