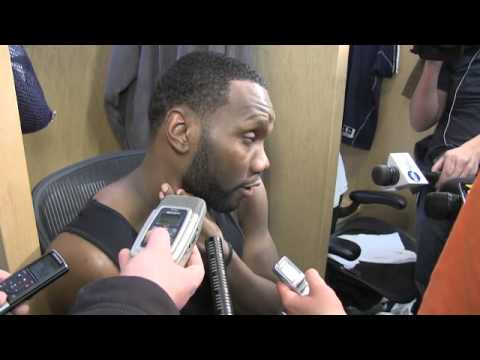 View 28 Items


The guys, I thought, after last night showed a lot of poise to come in and play against a physical team like these guys.

—Jazz coach Tyrone Corbin
SALT LAKE CITY — With all due respect to Ironman, Captain America, the Incredible Hulk and the rest of the superhero gang, the Utah Jazz were the ones who had an action-packed night of avenging Saturday at EnergySolutions Arena.
Al Jefferson's lousy game at Indiana last month?
Avenged.
Gordon Hayward's three turnovers in the final 21 seconds of regulation?
Avenged.
The Jazz's 20-point blowout loss to the Pacers earlier this season, Utah's no-show in Los Angeles on Friday night and the home team's squandering of a double-digit lead in front of 19,201 slightly panicked fans?
You guessed it — avenged times three.
Eat your hearts out, Thor, Black Widow and Hawkeye.
They won't be renamed the Utah Avengers anytime soon, but the Utah Jazz were more than happy to make up for previous mishaps while escaping with a wild and wacky 114-110 overtime victory over the Indiana Pacers.
Utah, having bounced back from Friday's ugly 102-84 loss to the Lakers, has now won four of five and gone 9-3 in the month of January.
"It's another win," Jazz coach Tyrone Corbin. "The guys, I thought, after last night showed a lot of poise to come in and play against a physical team like these guys. It's a good ballclub also."
Jefferson scored a game-high 25 points, including eight in overtime, after struggling mightily in a four-point outing in Indiana on Dec. 19.
Paul Millsap, who only had six points in that loss in Indy, hit two clinching free throws with 1.4 seconds remaining and finished with 21 points, five steals (atoning for four turnovers), four rebounds and two blocked shots.
Utah overcame a big rebounding deficit (41-28) and survived after watching multiple second-half 10-point leads go to waste thanks to a furious Pacer rally. David West scored 24 points. All-Star Paul George added 23 points. And George Hill contributed 22 points, nine rebounds and eight assists as the Pacers fell to 26-18.
"The physicality of the game tonight and to play it throughout the regulation of the game, and then in overtime, and to show that kind of character … (and) the fight that these guys have shown all year and continue to show is encouraging," Corbin said.
Hayward had 15 points, six assists, three rebounds and three steals to go with six turnovers. He suffered a grade-one right shoulder sprain late in OT, but X-rays were negative and he's listed as day to day.
"My teammates bailed me out for sure," Hayward said. "Two costly turnovers, bad plays, good defensive plays by them, but glad we got the win."
Hayward, who made several impressive offensive plays, including a spinning layup, contributed when it counted most. He put the defensive pressure on George's game-tying 3-point attempt with 8.9 seconds remaining. Hayward then grabbed the bobbled shot midair. George had cut Utah's lead to three with a trey with 30.5 seconds remaining.
Hayward was credited with a block on that defensive play, but he said he wasn't sure if he touched the shot.
"I just tried to make a defensive play," he said. "It wasn't anything. They shut the gate on me (with screens) and I got hit on the shoulder and then I just tried to make a defensive play."
Block or not, it led to two Randy Foye free throws with 6.4 seconds left and a much-needed five-point advantage.
Why much-needed?
George Hill kept the nutty night going by drilling a 3-pointer with 2.2 seconds to go in overtime, bringing Indiana to within a bucket at 112-110.
Adding one last moment of madness, Millsap's inbounds pass glanced off the backboard before rattling around the court back into his hands.
The Pacers thought they should've gotten the ball, but the referees ruled that the pass hit the bottom of the backboard instead of the back. Indiana had fouled Millsap before play was stopped, and the Jazz forward eventually sank a pair of clutch freebies with 1.4 remaining.
Exhale, avenged squad.
After erasing an eight-point lead in the final 1:42 of regulation and nearly overcoming Utah's six-point edge with 30 seconds left in OT, the Pacers' comeback bids finally came to a screeching halt, giving fans even more to scream about.
"We showed a lot of heart and a lot of character," Millsap said. "Last night, we fell but we still realized what we needed to do and come out and be aggressive and that's how we played tonight — with aggression."
Neither team seemed to be able to hold onto the ball in the final moments of regulation and overtime, which ultimately played in the Jazz's favor.
Holding a tenuous four-point lead late in overtime, Utah ended up getting three chances before Jefferson made an important basket with 34.7 seconds remaining. The Jazz had the ball for about a full minute, though. First, three Pacers under the basket couldn't grasp one rebound. Earl Watson then leaped into the stands to throw the ball off of D.J. Augustin out of bounds. Big Al ended the crazy, extended possession by following Millsap's missed jumper with a strong drive.
That gave the Jazz a six-point lead — but not any time to relax or celebrate.
"It was a long game. As long as we win, it doesn't matter," said Watson, who had several important hustle plays and five assists. "I love to play basketball, so the more time on the court means more fun and more opportunities to compete."
More time to be part of the craziness, too.
EMAIL: jody@desnews.com
TWITTER: DJJazzyJody