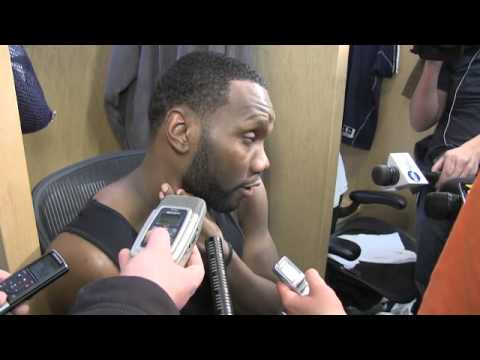 View 30 Items


SALT LAKE CITY — It may have been the longest possession in Jazz history — at least the longest of this season.
Clinging to a four-point lead in overtime, the Jazz got not one, not two, not three, but four chances to score. The fourth — a five-foot basket by Al Jefferson on a drive as the shot clock expired with 34 seconds left — was a huge basket for the Jazz, who hung on for a 114-110 victory over Indiana on Saturday night at EnergySolutions Arena.
The Jazz nearly threw away the game in the final seconds when Paul Millsap's pass went off the corner of the backboard after a long 3-pointer by George Hill brought the Pacers within two points. However, the officials ruled it was OK and Millsap hit two free throws for the final margin.
"The refs made a call and we've got to live with it,'' said Indiana coach Frank Vogel of the questionable inbounds pass with two seconds left.
Before that, the Jazz showed hustle during their amazing possession that lasted more than a minute as they kept rebounding misses and coming up with loose balls.
After scoring on their first five possessions of overtime to take a 108-102 lead, the Pacers scored to make it 108-104 with 1:36 left.
Jefferson tried a jumper that missed, but it hit an Indiana player and went out of bounds with 1:14 left. Then Gordon Hayward missed a shot that was heading out of bounds before Earl Watson hustled and knocked the ball off D.J. Augustin with 51 seconds left. With a new shot clock, the Jazz worked the clock down more and Paul Millsap missed a shot that he rebounded and put up another that bounced off Indiana's Roy Hibbert out of bounds.
At first, the shot clock was reset to 24, but the officials reset it to 1.9, ruling that Millsap's try didn't hit the rim. But on the inbounds, Jefferson scored in the lane to make it a six-point game with 34 seconds left.
Comment on this story
"It was just hustling, trying to win the game,'' said Watson, who played the entire fourth quarter and overtime. "I was just trying to go after the ball, a 50-50 ball. We saw some opportunities where they overplayed us a couple of times and got a couple of easy shots. I thought they opened up the defense to take the pressure off and we were fortunate.''
Indiana coach Frank Vogel gave the Jazz credit for their hustle, but didn't blame his own team.
"That's the game of basketball,'' he said. "Our guys were hustling their tails off, but the ball bounces away from you sometimes.''
Jazz coach Ty Corbin was happy with his team's hustle, saying: "The fight these guys have shown all year and continue to show is encouraging.''