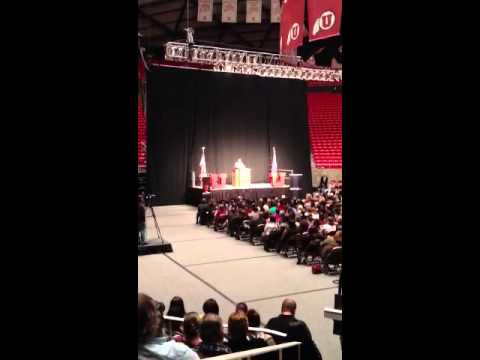 View 18 Items

The American promise is one big tent, everybody in and nobody out. Equal protection under the law is the American promise. Equal opportunity is the American promise.

—Rev. Jesse L. Jackson
SALT LAKE CITY — In an address that was part church revival and part a call to action, civil rights leader the Rev. Jesse L. Jackson called on Utahns to continue to tear down walls that divide and learn to live together.
"When the walls come down, we see each other in real time and real ways," Jackson told an audience of mostly college students and schoolchildren at the Jon M. Huntsman Center Thursday.
"When walls come down, the sun is able to shine on all of us. Let the walls come down."
Jackson, 71, was keynote speaker for the University of Utah's Martin Luther King Week celebration "Justice for All: At What Cost?" 
Octavio Villalpando, associate vice president of equity and diversity, noted that Jackson's visit to the university comes about 52 years after Martin Luther King Jr.'s only visit to the U. and Utah in 1961.
Jackson observed that Monday not only marked President Barack Obama's second inauguration, it was also Martin Luther King Jr. Day. King's work and his legacy centered on tearing down walls, he said. The remnants of those walls became the "bridges Obama ran across in 2012."
While much has been achieved in terms of racial equality in Jackson's lifetime, much work lies ahead to ensure all Americans are equal partners in the American dream, he said.
"In a land so blessed, we're too stressed" by poverty, gun violence, drugs and a lack of opportunity, he said.
Fear and violence undermine the promise of the American dream. "We love what we should hate, drugs, violence and guns."
But Jackson said youth can "seize the world anew from elementary school to college. And let nothing break your spirit."
While older generations may resist change, the world is changing around them.
The day of King's historic "I Have A Dream" speech in 1962, blacks were not allowed to use public restrooms. Jackson himself was arrested for attempting to use a public library, he said.
King spoke 100 years after President Abraham Lincoln signed the Emancipation Proclamation freeing the slaves and just a couple of years before passage of the Civil Rights Act in 1964. But it wasn't until later in the South that white women were allowed to serve on juries and 18-year-olds who were old enough to be drafted into the war in Vietnam would have the right to vote.
Now, three women have been appointed to the Supreme Court, people are smoking fewer cigarettes, believe climate change is real, and Obama, the nation's first black president, has won two elections, he said.
"We are early in the morning of a new day. This is the dawn of a new day. The sun has set on the old day. We're moving forward to high noon, not the other direction."
Jackson, who spent a great deal of time with King and was in Memphis with him when the civil rights leader was assassinated on April 4, 1968, said King would have been proud of the events honoring him at the university this week.
"We're learning something new, how to live together. We were not taught to live together. We learned a bad lesson well. Now, we must learn a new lesson. Together we'll prevail and make a great nation greater. God bless you."
During an earlier press conference Thursday, Jackson urged Utahns to "honor the American promise of equal rights and possibilities for all." He said that promise requires equal treatment of women, people of color and sexual orientations.
"It means being fair, rejuvenating our commitment to equal protection for all people and equal opportunity. We now see the advantage of living that way."
Asked if he had an opinion about the ongoing Utah debate whether to rename Dixie State College, Jackson said he was not familiar with the background of the issue. However, he noted that the Confederacy lost two wars, one in 1865 and another in 2012, an apparent reference to President Obama's re-election.
"A more perfect union won over states' rights. One should not be flying flags of the loser," said Jackson, founder and president of the civil rights organization Rainbow/PUSH. "We chose a union of states, a more perfect union. I hope the people will choose the American flag over the Confederate flag."
The nation's remaining civil rights struggles are ongoing and will not be overcome until all are in "the tent," he said.
"The American promise is one big tent, everybody in and nobody out. Equal protection under the law is the American promise. Equal opportunity is the American promise," Jackson said.
Those living in poverty are especially vulnerable, he said, noting that most poor Americans are young white females.
"Most poor people aren't on welfare. They work every day and they can't make ends meet. People who are poor often do not realize their potential and their potential is lost," he said.
The solutions to overcoming poverty, he said, include educating more children, creating greater productivity, stabilizing homes and making the economy grow.
Jackson's visit to Utah included lunch at LDS Church headquarters with Elder L. Tom Perry and Elder Quentin L. Cook, members of the church's Quorum of the Twelve Apostles, representing the church's Public Affairs Committee, said Scott Trotter, spokesperson for the church.
E-mail: [email protected]