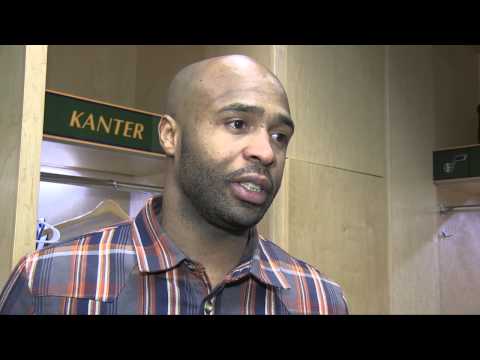 View 40 Items




You've got to give Washington a lot of credit. Those guys have a lot of pride and kept fighting.

—Utah coach Tyrone Corbin
SALT LAKE CITY — Rule No. 1 when trying to make a move up the ladder in the league standings is, don't ever blow a 22-point lead — especially on your home court.
And Rule No. 2 is, don't ever, ever do such a dumb, devastating thing like that against a team that comes to town a whopping 21 games under .500 — the worst record in the entire NBA.
Well, the Jazz darned near broke both rules.
But, after squandering almost all of a seemingly safe 22-point cushion they had built in the first half, the Utah Jazz held off the fast-finishing Washington Wizards for a 92-88 victory Wednesday night at EnergySolutions Arena.
"You've got to give Washington a lot of credit. Those guys have a lot of pride and kept fighting," said Utah coach Tyrone Corbin, whose team saw its once impressive lead slashed to 80-78 with 6:57 remaining to play, but held on down the stretch for its fourth straight win. "We got a little stagnant on the offensive end and had some turnovers and missed some shots, and they got some transition baskets.
"They scored 30 points in the fourth quarter after we held them to 19, 19 and 20 in the first three periods. That just shows that they are going to fight. ... Regardless of who you play in this league, teams can score a lot of points fast if you don't play right."
Utah (23-19), which won for the sixth time in its last seven games and for the eighth time in its last 10 outings, had a brilliantly balanced scoring attack, with six players in double figures.
And, as it turned out, Utah needed every one of them.
Paul Millsap led the way with 16 points, 15 rebounds, three steals, three assists and a couple of blocked shots, and Gordon Hayward had 15 points, five boards and four assists off the bench. Hayward scored five of his points over a critical three-and-a-half minute stretch in the fourth quarter after the Wizards had pulled within striking distance.
"I thought we relaxed a little and let them get a run," Hayward said of Utah's near-collapse. "We've just got to do better."
Randy Foye finished with 12 points. Al Jefferson and Jamaal Tinsley contributed 11 points apiece, and Jefferson also grabbed 10 boards, with Tinsley handing out a half-dozen assists.
Corbin was particularly impressed with the play of Tinsley, who has filled in admirably in the absence of injured starting point guard Mo Williams.
"He's a veteran guy. He plays hard; he plays smart and tries to make the right plays to get us going," the Jazz coach said of Tinsley, who's in his 10th NBA season. "He's a pass-first guy and does a great job of running the floor and getting guys the ball, so we need to make sure we give him the opportunities to advance the ball and get us in transition. He's been great for us."
Enes Kanter added 10 more points — all of them coming in the second quarter, when the Jazz bolted to a 22-point bulge, 47-25, and appeared headed for a ho-hum win.
Martell Webster led the Wizards with 15 points, and lightning-quick John Wall added 14 points and eight assists off the bench for Washington (9-31), which had won five of its previous seven games coming into Wednesday night's clash.
Bradley Beal chipped in with 12 points; AJ Price had 10; and Emeka Okafor pulled down a game-high 17 rebounds for the cold-shooting Wizards, whose 36-percent shooting inside was almost as frosty as the bitter, wintry weather outside. Washington scored the last seven points of the third period, then opened the fourth quarter with a 14-2 spurt to get right back in the thick of things with just under nine minutes to go.
Foye hit a big 3 and Derrick Favors scored on a layup, but the Wizards just kept coming and finally trimmed Utah's led to two with plenty of time remaining for the comeback win.
But Hayward, Millsap and Jefferson combined forces to help Utah regain an 88-80 lead with 3:14 left.
The Wizards wouldn't quit, though, and after Webster missed an ill-advised turnaround jumper that could've pulled Washington within two again in the last minute, Millsap scored to make it 90-84. Webster threw in a 3-pointer that made it 90-87 with 15.6 seconds left, but Foye connected on a couple of free throws four seconds later to put it out of reach.
"That stuff is a concern," Corbin said of his team's propensity to blow double-digit leads, then usually still hang on to win. "But you win the game, so you don't go crazy about it. You've got to learn a lesson from it — why you're doing it — and we get relaxed in situations where there's a lot of time left and we let teams make a run.
"We've got to learn not to do that against anybody because we can't afford to do it."
Yep, those are the rules — so don't break 'em.
EMAIL: [email protected]