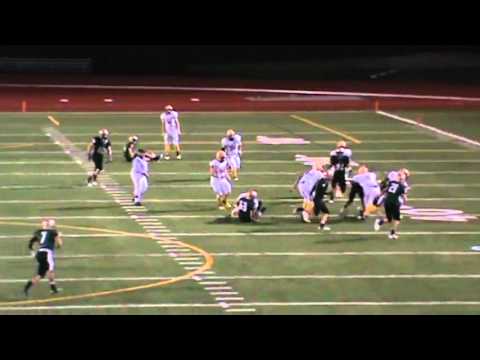 View 2 Items

It's hard to explain, but after everything I've been through and after seriously considering other schools, I feel much more committed to BYU.

—BYU commit Brayden Kearsley
BEAVERTON, Ore. — Brayden Kearsley had all but made up his mind to sign with Oregon State, but that all changed following a key coaching change and an inspiring in-home visit. After an exhausting recruiting process, the 6-foot-4, 290-pound Aloha High School star offensive lineman made his re-commitment to BYU public Wednesday afternoon in front of family, friends and media.
It was an announcement that seemed improbable as recently as a month ago until a visit with newly hired BYU coach Robert Anae in late December changed his perspective.
Kearsley admits to not having been particularly excited and maybe downright annoyed at the prospect of sitting through another overture from the BYU coaching staff at the time. Things had changed for the four-star prospect since committing to BYU back in the summer of 2011. An avalanche of interest from top Pac-12 programs weakened his resolve to sign with the Cougars and shored up a desire to play for a rising BCS conference program close to home.
"I always had BYU in the back of my mind, but I remember not wanting to sit through another one of the meetings with BYU again because I really didn't want to go there anymore or at least I was telling myself I didn't," Kearsley said. "I mean, I knew exactly what they'd say and I honestly didn't want to hear it again, but it was different with coach Anae — it was something I wasn't expecting."
Anae made Kearsley a priority immediately upon being hired on by BYU and made sure his first recruiting trip was to the Portland, Ore., area as a result. BYU's newly hired offensive coordinator was completely business-like on the visit, and it played well.
"It felt completely different than other visits I had with BYU coaches and in a very good way," Kearsley said. "Don't get me wrong, though — I love all of BYU's coaches and admire all of them. I admired the heck out of coach Webb (Mark Weber), but coach Anae really talked to me about stuff I needed to hear."
Anae focused on what type of offense he wanted to run, his style of coaching and how he'd prepare Kearsley to not only see immediate success at BYU, but for the next level. Anae's pitch wasn't entirely new and he touched on the unique aspects of BYU that helped lead to Kearsley committing to the program almost a year and a half ago.
"The decision recruits make is such a big one, and it's not just for the next four or five years — it's about the next 40 years and choosing the program that will help us reach our goals not only for college and the NFL, but for life," Kearsley said. "Like I said, BYU was always back in my mind throughout all of this, and after visiting with coach Anae, it helped me realize what's most important to me and put everything back in perspective."
It wasn't just Anae that helped bring Kearsley back to BYU, however. A family staunchly in the Cougars' corner helped along with childhood friend Dallin Leavitt, who committed to BYU shortly after Kearsley.
The two have been best friends since third grade and always wanted to attend college and play division-one football together. Leavitt didn't pressure his best friend to re-commit to BYU throughout the process and didn't even say much — he didn't have to.
"Me and Dallin are so close that we know what each other is thinking — we're like brothers," Kearsley said. "Whenever I was around him, I knew that he really wanted me to join him at BYU, and he knew that I knew this, so he never said much of anything about it, but I know he's super excited that I came back to BYU, and I'm just as excited."
Kearsley will compete immediately at the center position when he arrives at BYU this summer. He'll bring a nasty, aggressive style to the Cougar offensive front that provided sub-par play last season.
"I want get there and bust my hump like I never have before," he said. "I plan on being aggressive in every drill and bringing a nasty attitude, but in a good way. I love coach Anae and I love coach (Garrett) Tujague, and I can't wait to play for those guys."
Kearsley is also anxious to please loyal BYU fans — many of whom grew frustrated with him during the recruiting process and let their feelings be known. Kearsley retains an active Twitter account and became keenly aware of how attitudes toward him had shifted.
"I don't think fans understand what it's like for a young 17-year-old kid to receive all the attention I have throughout the process," he said. "Every kid is different, but I truly think I needed to back away from BYU to the point where I all but decided to sign with Oregon State to be truly committed. It's hard to explain, but after everything I've been through and after seriously considering other schools, I feel much more committed to BYU than I was when I originally committed there."
Kearsley believes he'll be signing with a program on the rise whose best days are ahead.
"I want to be part of BYU because I truly believe we're going to be scary good in a few years if not immediately," he said. "Coach Mendenhall is always going to have a top defense, and we just need to get going on offense to match what they do on defense. Coach Anae and Tujague are the right guys to get the offense going and playing at the level the defense does. I want to be a part of that and help out wherever I can — hopefully immediately."
Email: bgurney@desnews.com
Twitter: @BrandonCGurney