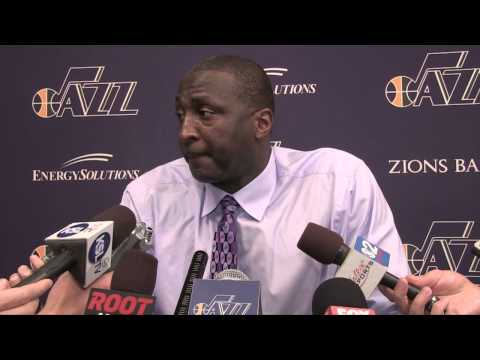 View 16 Items



SALT LAKE CITY — C.J. Miles said he didn't know what to feel about coming back to his old hometown for Saturday night's game.
"It's definitely different — I really don't have any words,'' he said just prior to the game. "I can't really put my finger on how I feel; I'm trying to keep it as much as I can like a regular basketball game.''
Miles first came to Salt Lake when he was just 18 and "pretty much became a man both on and off the court,'' he said, as he played seven seasons with the Utah Jazz with varying degrees of success.
However, after last season when the Jazz weren't eager to re-sign him, he signed a free-agent contract with the Cleveland Cavaliers.
Miles said he was looking forward to his only appearance in Utah this season and didn't think it would be a big deal until he arrived at the EnergySolutions Arena for Saturday's game, and then it became more emotional.
"It's great to see people around the arena — a lot of fans, security, people you develop small relationships over the years who come to every game,'' he said. "Driving around today and seeing the mountains — it's a good feeling. At the same time, it's a business trip.''
Miles received a nice ovation from the Jazz crowd when he was announced as a starter before the game.
"It surprised me a little bit,'' he said. "It was a bit louder than I thought it was going to be. I'm glad the fans still have love for me here. It was cool.''
Once the game began, Miles looked comfortable, scoring 10 first-half points to lead his team in scoring in the opening half.
However, in the second half, he looked to be forcing it and missed all three of his shots, finishing with 12 points.
Miles came into the game averaging 11.2 points on 39.5 percent shooting. After a slow start, he's earned a starting role with the Cavs, including a 33-point game and a couple of 28-point efforts.
"He's been a true professional,'' said Cleveland coach Byron Scott. "He got off to a slow start because of the offense and I expected that. Any time you're in one system for seven years, it's going to be difficult to switch it off and go with a whole different system. He's got a great work ethic and is a terrific young man.''
LEBRON COMING BACK?: A recent report in the Akron Beacon Journal discussed the possibility of LeBron James returning to his former team in 2014 when he can become a free agent.
"As fans in Northeast Ohio continue to howl and remain divided about the possibility of his return, more and more people around the league believe there is a strong possibility James will indeed return to Cleveland after next season.''
In order for it to happen, the Cavs would have to keep their cap space open for two more years so they could sign James to a max contract and not sign anyone to a big contract before next year. They would also have to make sure Kyrie Irving and Dion Waiters are happy and willing to stick around and be young stars for James to play with.
MAKING A MOVE: While the Jazz were enjoying most of the past week without any games, they were moving up in the Western Conference standings. The five teams directly ahead of Utah in the West combined to lose 10 games since Monday, allowing the Jazz to move into seventh place in the West and closer to the teams just above them in the standings.
The Rockets lost three games to stretch their losing streak to five games before Saturday night's game against Minnesota, when they lost again. Denver lost two games during the four days the Jazz had no games, while Portland also lost a pair of games, as did Golden State.
JAZZ NOTES: Former Jazz coach Jerry Sloan was in the arena Saturday night and received a loud ovation when he was shown on the Jumbotron in the first half. ... While C.J. Miles was playing in Salt Lake, his younger brother, Cameron, was playing down the road in Provo for the University of San Diego. The senior guard, who averages 5.6 points per game for the Toreros, went scoreless in 15 minutes. ... The Jazz get three more days off before playing Washington on Wednesday night. Then it's off to Los Angeles for a game with the Lakers on Friday before a game against Indiana on Saturday night at home.