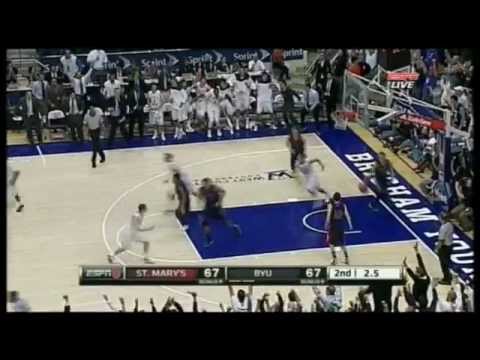 View 24 Items

PROVO — The Marriott Center can definitely be a tough venue for visiting teams, but Saint Mary's seems quite comfortable with the environs. The Gaels withstood an early assault Wednesday to come back and ultimately rip the hearts out of the Cougars for the second year in a row by virtue of a Matthew Dellavedova buzzer-beater.
His 3-point shot as time expired lift Saint Mary's to a 70-69 victory.
Early on, it didn't appear the Gaels would be the ones celebrating when all was said and done.
With just over eight minutes gone in the first half, Saint Mary's found itself down 20-4. The Marriott Center was rocking. It was a situation the Saint Mary's players were familiar with, however.
"We've been there before. ... You have to survive that punch and hang around and we did," said Saint Mary's coach Randy Bennett. "We've been down 20 early to Gonzaga and it was the same kind of deal. (At) this place you have to make shots and I thought we got some good shots early and we just couldn't make them."
Bennett didn't change much schematically at that point and trusted his team to get through it. The Gaels worked through it and closed strong to trail just 34-27 at halftime. They quickly snatched the lead early in the second.
A big key for the improved play was Dellavedova, who overcame 1-5 shooting and just two points in the first half to finish with 18 points and eight assists. He did most of his work in the second half with four fouls, but Bennett trusted his star point guard to stay in the game and finish strong.
"My philosophy is different than a lot of coaches and I feel that we don't have a chance to win the game without (Dellavedova) in there," Bennett said. "There's no sense in saving him for the last three minutes. I'd rather him be in the game. ... We tried putting him on someone we didn't think would draw a foul and it worked out."
A PERFECT 2.5 SECONDS: After Tyler Haws hit a shot to put BYU up 69-67 with 2.5 seconds remaining the Gaels needed perfect execution to get a decent shot and ultimately win the game.
They got just that with Dellavedova getting a clear look from about 35 feet away.
"We had a little luck getting it in there," Bennett said. "We did everything in those 2.5 seconds right. We didn't panic on the inbounds. ... We just kept our composure."
HUGE HOLT: With Dellavedova struggling with his shot early, Stephen Holt stepped up huge in the first half and in the second half. The shooting guard ended with a team-high 22 points, including 5-9 shooting from 3-point range.
"(Holt) has been coming on since coming back from his injury," Bennett said. "A lot of guys helped and we don't get that (win) without the whole team."
Email: [email protected]
Twitter: @BrandonCGurney