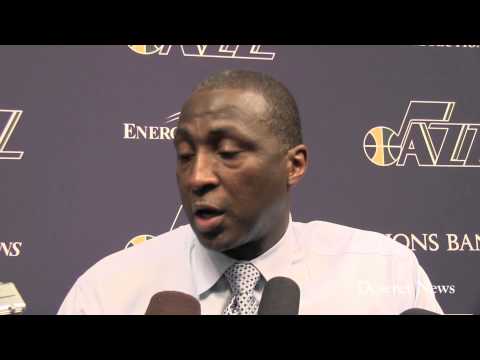 View 35 Items


I still had that Atlanta game, that bad taste in my mouth. I think now I'm over it.

—Jazz center Al Jefferson
SALT LAKE CITY — OK, Utah Jazz fans, you can breathe again.
Beehive State basketball fans might have collectively aged by about 10 years Monday night while watching their team squander most of a 21-point lead, but the Jazz clutched up in the final minutes to hold off the Miami Heat and eke out of EnergySolutions Arena with a breathtaking 104-97 victory.
No, really. Exhale, Jazz fans. Your basketball team indeed beat the Heat, even after LeBron James & Co. pulled within two points with 3:32 to go and seemingly all the momentum in the building.
"Big win, man. Big win," Jazz center Al Jefferson said. "I still had that Atlanta game, that bad taste in my mouth. I think now I'm over it. We bounced back, played well tonight."
Jefferson scored 23 points and grabbed 11 rebounds — even getting defensive attention from James in the fourth quarter — and Gordon Hayward came off the bench to fire in 22 points and splash in the shot of the game.
Paul Millsap added 17 points and nine rebounds, helping the Jazz improve to 21-19 with their fourth win in five games.
Because of the opponent and the way the final quarter played out, this particular victory seems like it should count as more than one in the win column.
James had nine of his game-high 32 points and Ray Allen added eight of his 10 points in the final period, as the Heat stormed back into this one by going on a massive 28-9 surge from the end of the third until just over three minutes remained.
While Heat bandwagon fans went nuts inside ESA, the Jazz faithful pulled their hair out while Utah went into meltdown mode yet again. The Jazz blew a 15-point lead in their loss at Atlanta on Friday and then had to hold on for dear life Saturday after Detroit cut a 13-point lead down to three in the final three minutes.
This Miami comeback, by the way, happened with Dwyane Wade (11 points) and Chris Bosh (16 points) on the bench.
"There's no quit in that team. They showed why they're the world champions," Jazz coach Tyrone Corbin said. "We get up (21 points) on them. The fourth quarter they continue to fight."
Fortunately for the Jazz, they had one last gasp in them as well.
They got some helpful assists from James, too.
First, the self-proclaimed King got caught goaltending Hayward's shot, which gave the Jazz a 95-91 lead with 3:13 remaining. James was then called for an offensive foul for plowing into Big Al on Miami's next possession.
Jefferson hit two free throws on the Jazz's ensuing trip down the court, James missed a 3-pointer and then Hayward hit one of two freebies as Utah reclaimed a seven-point lead with 2:03 to go.
"I knew they were going to make their run," Jefferson said. "When we was only up two, I didn't panic."
"As they were making the run, you saw guys starting to get frustrated," Jazz small forward Marvin Williams said in his first game back after missing three with right knee inflammation. "I just told everybody, 'Man, we're still winning. … Just keep your composure, we still have a lead.' The whole game, I felt like we just kept our composure."
Miami, which shot 54.2 percent for the game, still had a good chance of pulling off a win in the final minute, but Millsap hauled in a big offensive rebound after Jamaal Tinsley missed a 3-pointer with a minute to go.
Hayward then made a swift move against Allen and calmly sank a fadeaway jumper from the free-throw line to give the Jazz a safer 100-93 lead.
Fans sighed. And then cheered loudly.
The crowd roared again a moment later when James' pass sailed through Bosh's hands for a coffin-nailing turnover with 31.9 seconds remaining.
The exhalation turned into exhilaration for Jazz fans, who've seen their team win two nail-biters against Miami in the past two seasons.
"Our guys," Corbin said, "showed a lot of character and poise to be able to weather the storm and pull ourselves back together and get a win here against a good ballclub."
The Jazz trailed 18-12 early on, but things quickly changed for the better after a Randy Foye 3-pointer ignited a 10-0 Utah run.
DeMarre Carroll then scored 11 of his 12 points in the first half while playing his Junkyard Dog game. Hayward got hot from outside. And Big Al provided more offensive firepower as Utah went on a game-changing 38-15 spurt.
The Jazz took their biggest lead at 84-63 on a Millsap layup with 1:19 remaining in the third quarter before Miami's crazy comeback.
"It was low energy. Low energy against a team like this on their floor with this amazing crowd. Can't play with low energy," said James, who had another big-scoring night against Utah with 13-for-19 shooting to go with six assists, four rebounds, three steals and two blocked shots.
"We gave them a little bit of everything. Start of the game, they hit some 3s, got some paint points."
"It was a great comeback coming into the quarter. Our guys really played their hearts out, really competed," Miami coach Erik Spoelstra said. "Everything has got to go right if you are down 20, but we gave it a shot."
On this night, however, the Jazz managed to deliver one final knockout blow, allowing their fans to smile after catching their breath.
"It was huge, man. Huge. That was a huge win," Williams said. "You've got the defending champs come into your building and the way we played on the defensive end and shared the ball on the offensive end, I just think it was huge."
NOTES: The Jazz had 19 second-chance points, while holding Miami scoreless in putback opportunities (0 for 6). … Big Al had his 19th double-double. … Utah made its first nine shots of the second quarter, during which it outscored the Heat 29-19. … Utah outrebounded Miami 40-23. … The Jazz only shot 47.4 percent after hitting a sizzling 67.6 percent in the first half.
EMAIL: jody@desnews.com
TWITTER: DJJazzyJody