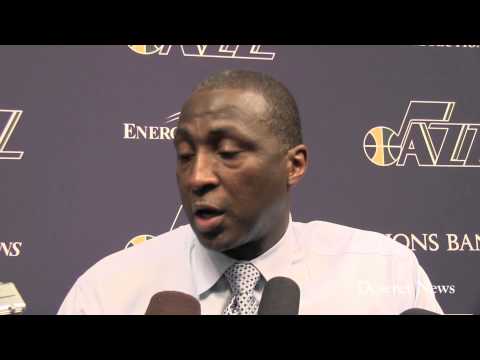 View 35 Items


SALT LAKE CITY — Down the stretch of a tight game between the defending world champion Miami Heat and the Utah Jazz, you'd expect that LeBron James would be the go-to guy, not Gordon Hayward.
Gordon Hayward?
While James was pretty invisible over the final frantic minutes of another Jazz near-meltdown, the third-year Jazz player was the man for the Jazz, scoring 10 of his team's final 14 points when no one else could make a basket.
"I was just trying to make plays and make shots,'' said the soft-spoken Hayward. "They did a good job defensively of taking us out of what we wanted to do — finding Big Al (Jefferson) and Paul (Millsap) and making things really difficult for us. I just tried to create something for us.''
The Jazz had seen a 21-point, second-half lead dwindle to just five with just under five minutes remaining and hadn't scored a field goal in over six minutes. That's when Hayward calmly broke the drought by draining a 3-pointer from the top of the key.
The Heat responded with six straight points to make it a two-point game with 3:32 left when Hayward again came up big, scoring a baseline jumper on a goaltending call by James.
His biggest basket, however, came with 40 seconds left and the Jazz clinging to a 98-93 lead.
Jamaal Tinsley had just missed a 3-pointer and Millsap chased down the rebound. With the shot clock winding down and veteran Ray Allen guarding him, Hayward was on the right side. He surged like he was going down the lane, but slowed and dribbled the ball behind his back. Then he stepped back and fired a fadeaway jumper from the foul line.
The shot hit nothing but net and for all intents sewed up the game right there for the Jazz, who added two more free throws by Hayward and two by Jefferson in the final 23 seconds.
"I just made a move to try to make something happen,'' Hayward said. "It was something I worked on this summer and it went in.''
Jazz coach Tyrone Corbin, who praised Millsap for getting the big rebound before Hayward's shot, said, "We needed to make one — Gordon's shot went in and it gave us a little sigh of relief.''
Corbin said he isn't hesitant to have Hayward taking the big shots in tight situations against great teams like Miami.
"He can make plays off the dribble,'' he said. "We couldn't get it inside to Al, but (Hayward) can make plays on the weak side or come across and make a play for himself or his teammates and he made some shots tonight.''
Hayward was also a key player in the second quarter when the Jazz bench helped stake Utah to a 59-44 halftime lead. The Jazz bench scored 33 points on 14-of-16 shooting in the first half compared to five points for the Heat bench. Both Hayward and DeMarre Carroll each scored 12 points in the first half, while Derrick Favors added seven.
"When we've got everybody rolling, we're pretty good,'' Hayward said. "We're trying to learn to push the lead from 20 to 30. We need to continue to put our foot on the gas and not be hesitant.''