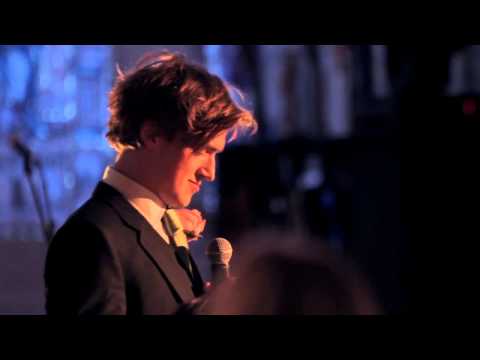 View 4 Items

What does it take to make a simple video go viral on YouTube?
Unless it includes someone doing something awkward, idiotic, silly or just completely random, the video will most likely not make it big. It is rare that a video goes viral for being entirely sweet.
Which is exactly what the latest viral video has done. Lead singer/songwriter Tom Fletcher of Europe's hit band Mcfly decided to stick to his roots and perform a song version of his wedding speech. Even though the video is more than 10 minutes long, millions of YouTube viewers have decided that the 10 minutes is well worth their time. "My Wedding Speech" was posted on Jan. 6 and already has almost 8 million views as of Monday afternoon.
Throughout the video, Fletcher sings to his ushers, the bridesmaids, the groomsmen, his sister and new sister-in-law, both parents and, lastly, his new wife. As the video moves on, it quickly gets more and more meaningful as Fletcher tries to hold back tears when speaking to those most important to him.
The success of the video came as a surprise for Fletcher, as he quickly took to Twitter stating his disbelief in its popularity, admitting, "I almost didn't post it." The video has become so popular that a cover of Fletcher's original song has already hit YouTube and Fletcher's wife, Giovanna, had an overwhelming surge of Twitter fans.
Sarah Sanders Petersen is an intern for Deseret News, where she writes for Mormon Times and does other feature articles. She is a communications major and editing minor from Brigham Young University.