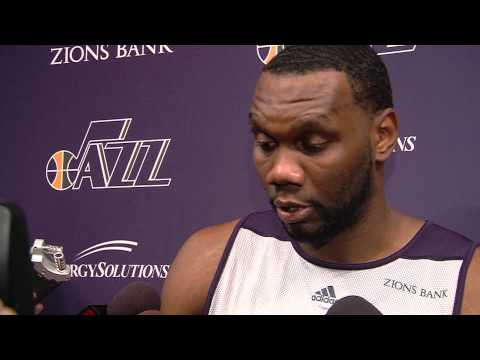 View 4 Items



SALT LAKE CITY — The Utah Jazz host the Miami Heat Monday night at EnergySolutions Arena, and they're as pumped up for the showdown as their fans are.
"I think you have to. (Miami is) one of the elite teams in this league, championship-caliber team," Jazz forward Paul Millsap said. "It's kind of a stepping stool for us to see where we're at."
The Jazz, having won five of seven, bring a 20-19 overall record and an 11-5 mark at home into this game. Small forward Marvin Williams is expected to return to the starting lineup after missing the past three games, while Jamaal Tinsley is also back after sitting out the second half of Saturday's comeback win over Detroit while under the weather.
"They're the defending world champions," Jazz swingman Gordon Hayward said of the Heat. "I think we get up for every game, but this is going to be the type of game that we've got to make sure we come out focused and we come off with a lot of energy."
The Heat are 24-11, but have gone just 6-5 since beating the Jazz 105-89 in Miami on Dec. 22.
"It's just a game we have to win," Jazz center Al Jefferson said. "They is the defending champs, so you've got to come ready to play, but it's most definitely a game that we just focus on winning."
The Heat will be without forward Shane Battier (strained right hamstring). He had 15 points, three rebounds and three blocks against Utah last month.
Other short shots from Jazz shootaround:
• Paul Millsap on Detroit coach Lawrence Frank saying the Jazz have an instigator culture:
"We are a physical team. We've been a physical team. This is a physical culture. We've been like that for years. From ground up … hard working. I guess if somebody say that, it's gotta be a compliment to us."
• Hayward on what he sees as the key to a Jazz win:
"We've got to take care of the basketball. Turning it over is just kind of playing it into their hands. They have too many guys that can finish in transition and make big plays. That's going to be a key for us: make sure that we take care of the basketball and don't let turnovers lead into easy buckets for them. As well, I think we can offensive rebound on them, too, so that will slow them down as well."
• Jefferson on what Miami did well in holding him to six points last game:
"They did a great job fronting me, and when I did catch the ball they sent the double team from the baseline. They had a heck of a defensive scheme for me. I've got to find a way to get the ball in movement, get the ball through the offense instead of just trying to run floppy punch and cross fire into me. Every team is trying to do that, so it's just something I've got to get used to and prepare for."
• Big Al on being back home for 15 of the next 20:
"We should have been 3-0 on the road trip. That game in Atlanta (a loss after blowing a 15-point lead) still bothers me a lot, but we finished 2-1 and we come back home for a good little home stand now. But we've got a tough one tonight to start it off."
Added Jefferson: "It's cold here, man. It ain't never been this cold since I've been here. I don't know what's going on. (But) it's always great to play home, especially try to get some of these wins, try to take advantage of it. I think we're playing better on the road than we was at the beginning of the season. I think it's going to continue to get better."
• Jefferson on what challenges Chris Bosh presents defensively:
"Chris Bosh is like a wing trapped in a big man's body. He's always been one I hated to guard throughout my whole career. He can shoot it. He can drive by you, left or right. He's a talented offensive player, but if I had anybody that I feel comfortable guarding him, it'd be Paul. Paul used to that type of challenge."
Is that so, Millsap?
"I can agree with that. He's a power player, pretty strong, one of the fastest guys in this league. He's a tough guard for anybody. It's going to have to be a good team-defensive effort for us tonight."
• Marvin Williams on how he's feeling after missing the past three with right knee inflammation:
"I'm feeling much, much better after the little treatment session I got with Doc a week ago and Coach giving me some time off to kind of let it heal up a little bit. I feel a lot better than I did. I'll be ready to go."
• Williams on defending LeBron James, whom he'll likely be matched against to start the game:
"The biggest thing is, you just can't lose your confidence. LeBron can score whenever he wants to score. As a defender, you just want to try to make it as difficult on him as you can. There's not really one guy who can stop him from scoring. It's a total team effort, for sure."
• Hayward was asked if it's easy to get caught up watching in awe at some of the plays LeBron and Wade make:
"There are plays that people make in this game that, we're all basketball fans, and they're pretty amazing — from LeBron, guys from other teams. Guys on our team make pretty amazing plays, too. We respect them. We respect their games, but we're not going to relax at all because of that."
EMAIL: [email protected]
TWITTER: DJJazzyJody