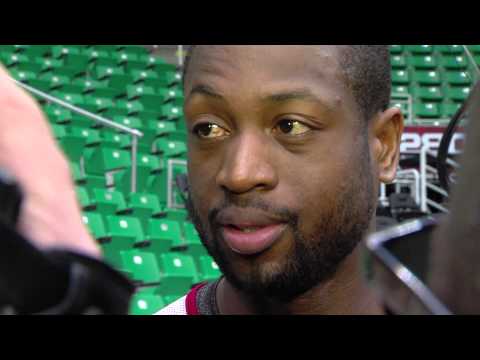 View 4 Items


SALT LAKE CITY — With the chill in the Utah air and the NFL playoffs in full swing, Miami coach Erik Spoelstra used a football comparison to explain what he anticipates tonight when the Miami Heat take on the Utah Jazz.
"A full-pad, gridiron type game," the coach said at this morning's shootaround.
Along with a physical effort, the Heat also expect Utah to play hard and for the rabid home crowd to make EnergySolutions Arena a pumped-up environment as usual.
"It's a great environment. It's a great atmosphere," Heat star LeBron James said. "These fans are amazing, especially, of course for their team. They bring a lot of energy to the game. I thrive off that."
James has had some success in Utah, and he reminisced on his 51-point game with Cleveland from 2006. But the Jazz have also gotten his teams, including the ever-memorable Sundiata Gaines game and last year's last-second victory for Utah after Devin Harris' three-point play and James' decision to pass the game-winning attempt off to Udonis Haslem.
"The fans give them an extra boost of confidence. They get them excited. They're always into the game," James continued on Jazz faithful. "They know the game of basketball, so much history as far as their organization. So they're great."
Miami star guard Dwyane Wade, whose 24-11 team has gone 5-5 and has gone 1-2 on a six-game road trip, echoed those sentiments. This year, the 20-19 Jazz, winners of five of seven, are 11-4 at home.
"They're very competitive here and they bring out the best in other teams. We enjoy every time we come here," Wade said. "It's a tough place to play. It's a tough place to breathe, first of all. Once you get over that, then you've gotta play the game.
"It's always tough, but it's always enjoyable," he added. "This is one place that if you walk out of here with a win, you feel very, very good about yourself."
Then there's that physical style of play the Jazz have become known for over the years by opponents — most recently Detroit coach Lawrence Frank, who said Utah has a culture of being an instigator.
"They really junk it up here at home. They're a very physical team, obviously, with (Paul) Millsap and (Al) Jefferson, the big guys," Wade said, more as a compliment than a putdown. "They've got a lot of great guards as well, even though they're missing (Mo) Williams."
Forward Chris Bosh also called the Jazz "very physical," adding that the Heat are expecting the home team to try to grind out a win.
"They want to slow the game down, execute in half court, punch it down into the post. That just makes for one of those kind of games," Bosh said. In the same quote, he continued about Jazz fans, adding, "We always know that they're a good home team. It's always a great place to play, a lot of intense games. We're looking forward to tonight."
More short shots from Miami's shootaround:
• LeBron James, 28, on being just 50 points away from becoming the youngest NBA player to reach 20,000 points:
"It means I've been able to stay healthy for one. … I've been able to be around teammates that allow me to play at a high level. It is more than a number."
• Did LeBron take the advice he sought Sunday when asked for suggestions on where to eat breakfast in Salt Lake City?
"I get so much (tweets). Some of them are good. Some of them are awful. I'll take some of the advice. I've still got to do a little bit more research, though. I just can't walk in anywhere."
• Did he find a good spot for breakfast then?
"Yeah, I did, honestly. Right across the street from our hotel was a really good place."
• Bosh laughed when asked if he's a wing trapped in a big man's body as Jefferson humorously suggested:
"No, I don't think so. I just like to take advantage of what I can do well. I like to go inside and out. If I have opportunities in the post, I want to play in the post. With LeBron and Dwyane attacking the rims, I know that a lot of my looks come from the perimeter. I just have to make sure I'm consistent with those shots, make sure I'm aggressive and make plays when it's time to make plays."
• James on the Jazz: "They're a good team. They're big bodies. Millsap and Jefferson and (Derrick) Favors and (Enes) Kanter. I think Gordon Hayward is a really good player as well and those guys play together. One thing about this team is they're going to play hard and they're going to play together each and every night so we have to be ready."
• James on what the Heat did to contain Jefferson (six points, 2-for-8 shooting) in Miami's 105-89 win at American Airlines Arena on Dec. 22:
"We just played defense at a high level, helped one another. Big Al's a big-time player and we just tried to limit his easy touches, his easy catches, and then just rely on defensive presses."
• James on Heat's strategy vs. Jazz tonight:
"You've got to limit their easy touches, limit their easy points in the paint. They're a team who loves to play in the paint, especially with the bigs that they have and the attack smalls that they have."
He continued that they have to "contest jumpers" and then added, "You want to control the paint first.
• James on the Jazz's future with guys like Favors, Hayward and Kanter:
"This league is about continuing to improve each and every year. They have improved since they've been in the league, and if they can continue to do it, they'll have a good team. They have a good future."
• James, an Ohio native, on the frigid weather conditions in Utah:
"I've seen snow before. I've seen cold weather. It's cold out here. I'm not going to say it's not cold, but it's not like I haven't seen it before."
EMAIL: jody@desnews.com
TWITTER: DJJazzyJody