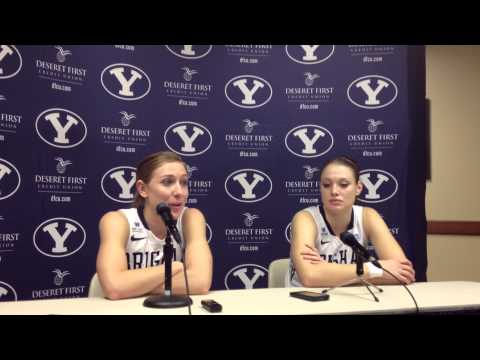 Amy Donaldson, Deseret News
PROVO, Utah — Kim Parker Beeston hit two big 3-pointers to spark a 15-2 run to open the second half to help BYU women's basketball pull away from Pepperdine and win 68-42 Saturday afternoon at the Marriott Center.
The Cougars outscored the Waves 38-22 in the second half to improve to 12-4 overall and 3-0 in West Coast Conference play. Pepperdine falls to 4-10 overall and 1-2 in the WCC.
"It was a nice win," BYU head coach Jeff Judkins said. "We didn't play some of our best basketball, but we also had moments where I thought we played pretty well. I thought we did a lot better job defensively in the second half, especially defending the ball screens. I'm happy, we can play better, but I think we played well enough tonight to win. A good balanced scoring is nice to see."
Beeston led four Cougars in double figures with 15 points. Haley Steed had 12 points while going 2-for-3 from behind the arc with nine assists, Jennifer Hamson had 10 points and nine rebounds and Ashley Garfield had 10 points and six rebounds.
Pepperdine was led by Kelsey Patrick who scored 11 points and pulled down four rebounds.
Keilani Unga and Hamson scored two baskets each to help BYU jump out to a quick 8-3 lead within the first four minutes of the game. Just before the 15-minute mark, Beeston stole the wing pass and took it down for a layup to spark up the crowd.
As the half progressed, the Cougars began to assert themselves inside. Steed found Morgan Bailey down low for a layup, and on the Waves' next possession, Hamson blocked her second shot of the game. With Pepperdine focused on the middle, Steed hit a three just before the shot clock expired to give the Cougars a 15-6 lead.
With just under 10 minutes left, Steed found Stephanie Seaborn open for a trey to push the lead to 21-10. After a jumper by Hamson and one from Steed, Beeston hit two free throws to extend the lead to 27-16 in favor of the Cougars.
Over the final six minutes of the half, both teams buckled down on defense and went cold on offense. The Waves hit two jumpers and Steep hit a 3-pointer for the Cougars to put BYU up 30-20 at halftime.
The Cougars opened the second half on fire, hitting three shots from downtown. Two by Beeston and one by Xojian Harry sandwiched a layup by Hamson to open up the largest lead of the game for BYU at 42-26.
Comment on this story
Garfield scored the next five points for the Cougars to go on a personal 5-2 run. Garfield drove hard to the basket to create her scoring chances. She hit a layup and was fouled on the other two chances and made three out of the four free throws.
Two jumpers by Steed and a 3-pointer and a layup by Beeston helped push the Cougar lead to over 20 points late in the half. BYU used its length and speed to force eight turnovers and out-rebound the Waves 21-15 to maintain their lead for the remainder of the half.
BYU will return to action Thursday against Gonzaga at 6 p.m. PST at the McCarthey Athletic Center. The game will be streamed live on BYU Radio.
Jared Houghton is a Sports Information Director who works in the BYU Athletic Communications with the men's and women's swimming teams. He can be reached at swimming_sid@byu.edu for questions relating to swimming.